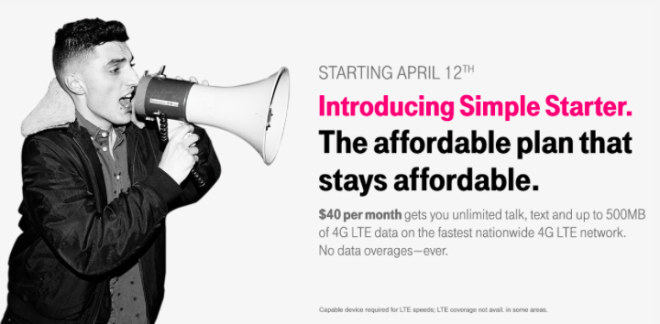 T-Mobile just took the wraps off its latest Uncarrier move and it's one I think you're going to like. John Legere took to the company blog to announce the new Simple Starter $40 monthly price plan.
"We start today with an all-new Simple Starter plan, a $40 monthly price plan specifically designed to deliver a predictable, affordable solution to millions of value-conscious Americans – and to provide a desperately needed alternative to the high-risk, overage-intensive plans that the biggest carriers target directly at Americans looking for entry-level wireless service. With AT&T's entry-level plans, for example, your costs immediately jump by increments of $20 when you slip over the threshold into massive overages — in what amounts to an obscene 44% price hike on those customers least able to absorb overages and bill shock."
The new Simple Starter plan is designed specifically for people wanting to get a low-budget price plan, without being scared of being charged ludicrous overages. Which is – by all means – another great move by Team Magenta. From a consumer perspective, it's great. From a retail staff position, it's great too. There's nothing worse than trying to recommend a suitable plan for a customer with a low budget, knowing they're going to go over the plan limits and end up with a bill higher than they'd anticipated.
Full Details of the plan:
Unlimited talk & text
Up to 500MB 4G LTE data
No data overage fees, because…no data overages. Pay only when you want more.
No annual service contracts
Those are the full details. You can get one line for $40 plan. For customers wanting multiple lines, Simple Choice is still the the best option and starts at $50.
UPDATES: 
#1 – Customers choosing the Simple Starter plan will still be able to make use of T-Mobile's other offers, including the ability to get a device on EIP, or switch to Tmo from another carrier and get their ETFs paid for.
#2 – For those curious about family plans, an internal memo to retail staff makes it clear that the $40 plan is being advised for individuals only. It doesn't come with the same International roaming or Stateside international talk and text benefits of Simple Choice.

#3 – Also in the retail memo above, you'll notice (if you look closely enough) that you don't get dropped to a lower speed once you hit 500MB on LTE. Your data is cut off after the limit is hit.
#4 – Oddly, if you scroll down to the bottom of the Simple Starter page, the FAQ's say that  "your data speed will automatically convert to up to 2G web speeds for the remainder of your billing cycle. At the beginning of your next billing cycle youll be back to nationwide 4G data." So we're getting two different answers from internal/external sources.
Check out the Simple Starter page here.