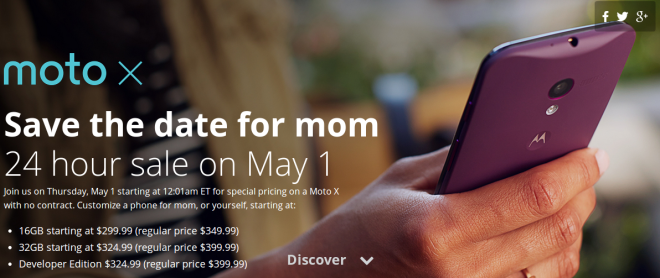 Not for the first time since its launch, the Moto X is about to go on one of its 24-hour flash sales. From 12:01am Eastern on Thursday, May 1st, Motorola is dropping the price of its customizable device. The 16GB is dropping by $50, while the 32GB and Developer Edition will have $75 slashed off the price.
Despite receiving wide praise from tech journalists, the Moto X hasn't quite caught the attention of the smartphone-buying public yet. Perhaps another 24 hour deal will help. Here's a break-down on sale pricing:
16GB Moto X starts at $299.99 (regularly $349.99)
32GB Moto X starts at $324.99 (regularly $399.99)
Developer Edition Moto X starts at $324.99 (regularly $399.99)
To take advantage of the price, simply head on over to Motorola's online store on May 1st and pick yourself up a bargain. Of course, there's a T-Mobile friendly version and you can customize it to look how you like. So, if Magenta covers with black trim is your bag, you can grab a phone in your favorite color for less than usual.
Via: Motorola