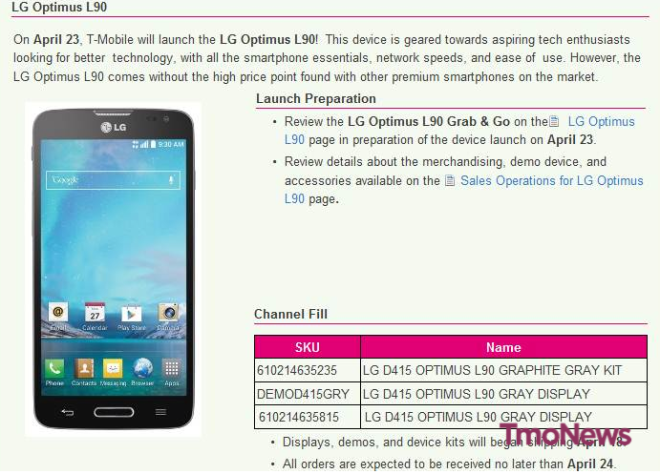 A few weeks back we were sent an image detailing a retail store's April roadmap including a uniform change and the launch of a LG Optimus device. The LG Optimus L90 is set to be a mid to low-end smartphone boasting a 4.7-inch 540×960 resolution display and a pixel density of 234ppi. With 8GB internal storage, it's not the most generous of devices, but it does have an external card slot enabling it to be boosted up to an extra 32GB. Camera's not too shabby at 8MP, but don't go expecting market-leading optics here.  There's no mention of pricing right now, but it is coming to T-Mobile. All stores should have received inventory by April 24. Release date is scheduled for April 23.
Landing on store shelves the same day is a small, basic feature phone. The Samsung T199 is about as basic and easy to use as it gets. It makes phone calls, sends texts, has 3G and a loud-speaker. Not much else to shout about here. It's very much a phone for people who only want one in case of emergencies. You can be sure it'll trump the LG on one stat: Battery life. With a tiny 2-inch display and a limited feature set, it'll be about as power hungry as a goldfish.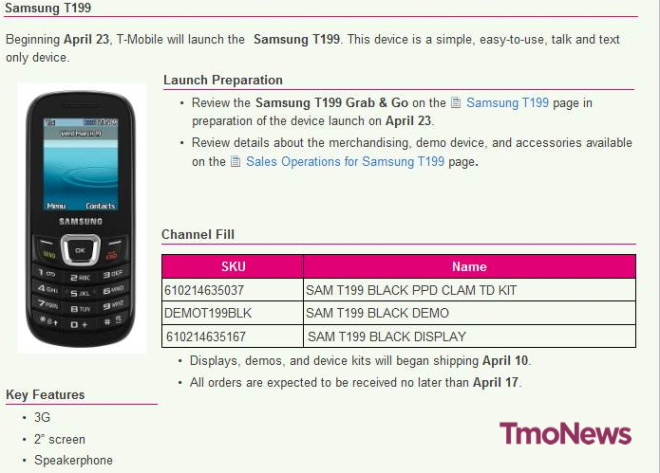 It's not likely that either phone will be able to steal the limelight from either the Samsung Galaxy S5 or HTC One M8, but then again, that wasn't likely to be the case. Ever. Both phones are released to address specific market sections. A basic phone for emergencies and essential contact plus a smartphone to get first time buyers "on the ladder".