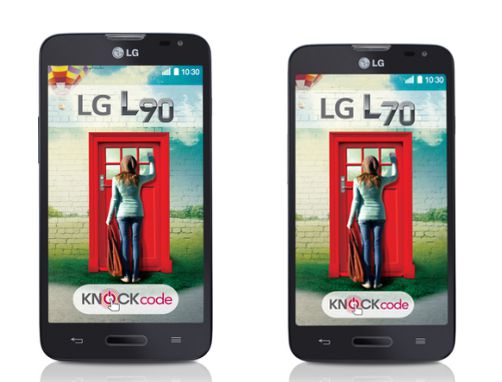 Over the past few weeks we've received various pieces of information stating that T-Mobile's Optimus L90 will be launching on April 23. Internal retail store schedules showed it, and other internal leaks confirmed it. Turns out, T-Mo's decided to push the release back a week. The new release date is April 30th. Thankfully, it's not a hyped product that's going to cause upset by hitting store shelves later than planned.
As suspected, the low-end Android device won't cost all that much to buy. It'll be available in stores and online for $0 down with 24 monthly payments of just $9.50, taking it to a budget-friendly $228 in total.
"As the Un-carrier, we're relentlessly focused on offering more value to our customers," said Jason Young, senior vice president of marketing at T-Mobile. "And the LG Optimus L90 and Optimus L70 deliver in spades. Both of these affordable Android-powered smartphones pack sweet high-end specs in a sleek design. Combine either one with our unlimited talk, text and data plans, and you've got the kind of value and freedom that only America's Un-carrier can deliver."
The L90 features a 4.7-inch qHD display, 5MP camera and a 1.2GHz quad-core processor and should make a welcome addition to the pocket-friendly Android range.
Along with the announcement that the L90 will be landing on April 30th comes the news that MetroPCS will also be selling a budget LG Android device. From today, the Optimus L70 will be available for $49 after a $100 instant rebate. It differs in price and specs to its slightly bigger sibling:
Available today, MetroPCS customers can get their hands on the LG Optimus L70 smartphone, at a price that won't break the bank. Similar to its T-Mobile counterpart, the Optimus L70 boasts a large and vivid 4.5-inch WVGA display and 5MP camera with LG-exclusive advanced camera features. With a 1.2GHz dual-core processor and long lasting battery, the Optimus L70 is the perfect device for aspiring tech enthusiasts, looking for all the smartphone essentials, network speeds and ease of use without the high price of other premium smartphones
For the full press release, head on over to T-Mobile's newsroom. Optimus L90 will be available from T-Mobile.com from April 30, while the L70 is available from today from MetroPCS.com. Let us know if either of these devices is in your sights. Even if it's just as a backup phone.
Source: T-Mobile