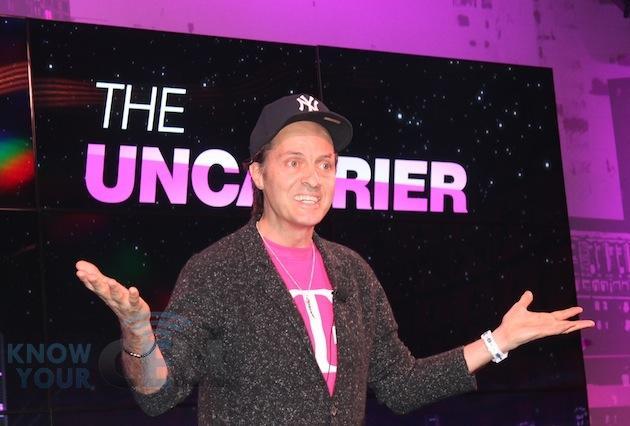 It's been almost 3 months since T-Mobile took the wraps off its last Uncarrier phase, and it was perhaps its most disruptive to date. Offering to pay off customer early termination fees in order for them to switch carriers was a bold move, with subscribers being offered up to $650 to trade-in and port their number to Magenta.
With three months having gone, and T-Mobile roughly sticking to one disruptive phase each quarter, it's worth counting down to now:
On March 26, 2013, the Company announced its radically simplified unlimited "Simple Choice" service plan with no annual service contract. Device financing with the Equipment Installment Plan (EIP) provides customers with low out-of-pocket costs on some of the most popular devices available in the US wireless industry.

On July 10, 2013, the Company unveiled JUMP!(TM), a groundbreaking approach to more frequent phone upgrades. T-Mobile had more than 3.6 million customers enrolled in JUMP! at the end of the fourth quarter of 2013.

On October 9, 2013, the Company announced that it would make "the world your network – at no extra charge" – with unlimited data and texting worldwide in 100+ countries for Simple Choice customers. At the same time, T-Mobile announced that it had delivered nationwide 4G LTE in 233 metro areas covering 202 million people. Since then, 4G LTE coverage has increased to 273 metro areas covering 209 million people.

On October 23, 2013, the Company un-leashed tablets and revolutionized how customers buy and use tablets with free data for life. Customers receive 200 MB of free data every month with any tablet for as long as they own and use the device on T-Mobile's network. In the fourth quarter of 2013, T-Mobile had 69,000 mobile broadband branded postpaid net additions, principally composed of tablets, compared to 5,000 in the third quarter of 2013.

On January 8, 2014, the Company announced that it would reimburse Early Termination Fees (ETFs) for individuals and families who make the switch to T-Mobile and trade in an eligible device. The plan also offers a trade-in value for customers' phones.
As you can see from the difference in dates, there's a 3-4 month gap in between each phase (except for October when the company announced two within the space of two weeks.
So there's that pattern, and then there's Mike Sievert's tweet from last week, showing some execs around a conference table "planning the next Un-carrier move". But the question is: What will it be? What is left in the industry to disrupt? Are there any pain-points left for consumers. What would you like to see?
If you have an opinion on the matter, leave your thoughts in the comments. If you have a tip to share, or want to get in touch personally, hit me up on email at: cam@tmonews.com, or on twitter: @TiP_Cam.