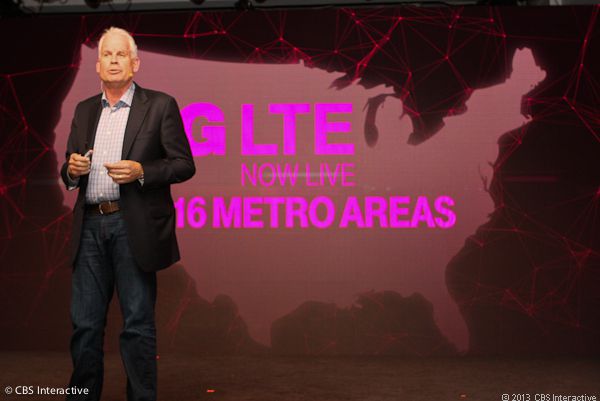 A day or two ago RootMetrics published a report measuring each of the four major US carriers against each other. Sadly – for us T-Mobile fans – Magenta finished rock bottom of the pile. You can take a look at the end results in the image below:

These results are all based on tests done in the final half of 2013. As for how the company tests, its official statement on its methodology is as follows:
We apply these standards to professionally measure how each network performs across a broad range of consumer-oriented mobile activities: data, call, and text. We then distill the results of our testing into consumer-friendly RootScore Reports that summarize network performance at the national, state, metro, and airport levels.
The frustrating part for T-Mobile's executives is that a lot of this data was taken before its higher speed LTE network was in full effect. T-Mobile's CTO, Neville Ray, spoke at a conference in San Francisco and stated that Tmo's approach to wireless performance is based on independent tests done by actual customers. In its keynote speech at CES in January, the carrier used Ookla's Speedtest.net platform. Results in those tests showed that – on average – T-Mobile's LTE network is the fastest. Painting a very different picture to the one from RootMetrics' findings.
Ray also remarked that that the report was "pretty much funded by wireless carriers". But he wasn't the only T-Mobile executive to have his say on the matter. As you'd expect, John Legere took to Twitter to voice his own opinion. GeekWire collected a handful of them:
"Congrats to our competitors – you guys really knocked it out of the park on that report, LAST year when the tests were done"
"We've said it before, but I'm happy to say it again. We look at REAL results from REAL people when we make network claims."
"Our claims are made on speed tests done by actual customers on their devices. Theirs are made by a guy driving around in a BMW"
But, T-mobile clearly isn't under any illusions about its coverage overall, particularly in rural areas. It knows it has to improve. During the aforementioned conference, Ray also stated that Tmo would be focussing on rural areas and part of that is going to happen when the A-block 700MHz spectrum starts rolling out towards the end of this year.
"When we move out into rural areas where we don't serve, obviously we don't have a competitive experience. But we are working on that. We will be working on that more with what we do with our [700 MHz] A Block deployment. And we look to level the playing field across a broader swath of geography across the coming years."
Of course, he also made sure we knew just how much of the country is now covered by LTE. Its high speed network now covers 209 million people, growing to 230 million by the mid-point of this year. Before 2015 arrives, we should see 250 million covered. In most of those, the 10+10 network is in place, while 20+20 is slowly being deployed. As it stands, T-Mobile now covers 94 out of the top 100 markets with LTE.
What do you guys make of T-Mobile LTE roll-out? Is it making the right moves? To me it makes complete sense that a carrier would focus on the major metro areas before turning its attention to the rural locations. Making sure that most of its subscriber base can benefit from faster and more reliable coverage is a wise business move. And – given that it hasn't been able to compete with AT&T and Verizon when trying to acquire more spectrum, it's not done badly.
I guess a more important question, given the results of RootMetrics' tests is whether you think Magenta will ever be able to shake the "poor coverage" preconception?
Report via: RootMetrics
Additional via: FierceWireless, GeekWire, PCMag
Image Credit: CBS Interactive