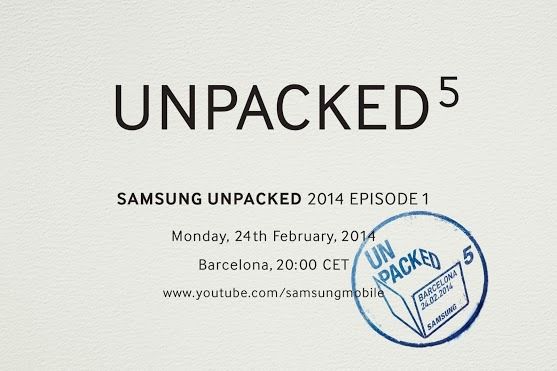 Over the past few months, rumors of the next Galaxy S device have been building. And – while we haven't been posting them – I've been keeping an eye on everything that's been speculated so far. If it all pans out, we'll have a device with a 2K display, iris scanner, fingerprint sensor and a new version custom skin supposedly called Magazine UI, that takes a vastly different approach than what we're used to with TouchWiz. With Apple rumors I'd be skeptical of any of these, with Samsung I'd be surprised if it wasn't packed with as much technology and as many features as physically possible.
Yesterday, Samsung sent out events to its Unpacked event at Mobile World Congress in Barcelona. Its press event will take place on the Monday evening, February 24th at 8pm local time. And luckily enough, I'll actually be there in person covering MWC for Phonedog Media, so, expect some hands-on videos and coverage to go live at some point.
Of course, the invite doesn't explicitly say that the Galaxy S5 is being announced, but, it would make sense. The timeframe is just about right (11 months after the S4), and Sammy is making a big deal of it, hosting a live streaming press event in NYC at the same time. Also, having already announced new tablets at CES, and the Note 3 still being relatively new, the next Galaxy would make the most sense.