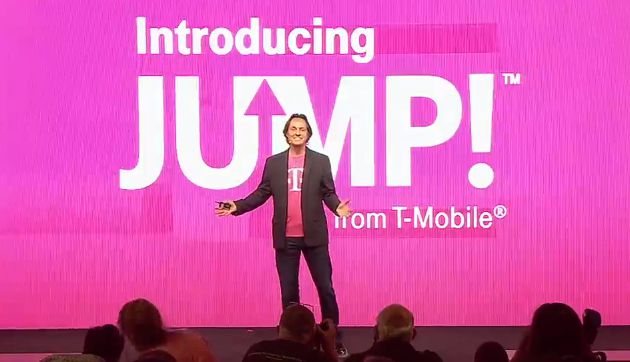 Looks like T-Mobile's plans for February 23rd are going to be a big more major than we'd anticipated. We've already heard of the companies plan to introduce a new Stateside International Talk and Text feature on that day. Today, we've heard of further plans to make JUMP! more appealing to customers on the same day.
We got hold of an internal memo from a source. From the 23rd of February, JUMP! will no longer have any time restraint on when you can upgrade your phone and you won't have any limits on the number of times you upgrade.
No more 6 month (180 days) waiting period
No limits on how often customers can upgrade
Customers can JUMP! whenever they want – trade in an eligible device and receive full credit for all remaining payments on that device, up to half of the phone's original cost
Expansion to Tablets
We're yet to see if this will have any major affect on sales or the number of times customers decide to JUMP! One huge positive is that it's taking away any criticism that JUMP! may have received from skeptics. One point that seems slightly unclear is the third one. I circled back with our source and got the following information:
Current customers with the original JUMP! feature will be grandfathered in and will still be able to upgrade before paying off half of the device, as long as they've had JUMP! for 6 months or more.
New customers adding JUMP! will be able to upgrade whenever they like, as long as they trade-in their current phone and 50% of the phone cost is paid by doing so. At least, that's how we understand it.  (You might have to pay something towards paying off the EIP yourself if your phone isn't the right value. Again: I think. Not 100% on that). So, when they say "T-Mobile will pay off the remaining EIP balance on your device", they are really saying "We'll pay off the remaining balance, as long as the remaining balance is not more than 50% of the original purchase price."
Like I say, there is some uncertainty. For some devices, that could be a pretty big caveat and end up leaving you a little out of pocket. In all honesty though, are there many out there that get so fed up with their phones after 1-2 months that they want to change? I think once every 6 months or so seems about right.
Below is a table outlining the difference for customers taking out a JUMP! plan before and after February 23rd.

One of the biggest changes here is that it now includes tablets. Which may not be a big deal to everyone. After all, customers generally don't change or upgrade tablets anywhere near as often as they do phones. But they might, with the new inclusion in to the JUMP! plan.
Over the past couple of weeks, Sprint, Verizon and AT&T have all announced more competitive pricing. It'll be interesting to see whether the new flexibility in JUMP! from Feb. 23 stirs more response from the competitors.