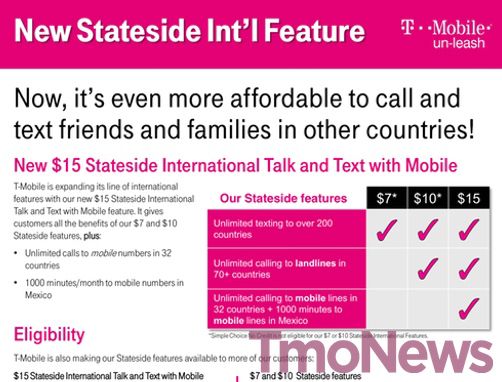 A few days ago we heard from a source that T-Mobile was about to launch a new plan to allow customers from the U.S. the ability to call friends or family in Mexico as part of their Simple Choice plans. It turns out, that information was only true in part. Another of our sources got in touch with a few pieces of information and company communications that bring the bigger picture in to play. Or, make it much clearer at least.
According to the leaked information we've received, Tmo is set to revamp its current International Talk & Text options. Not only is the name changing to "Stateside International Talk & Text", to help distinguish between that and international roaming, but the company's also introducing a new $15 plan.
For $15, users will get unlimited calling and texts. Unlike the $10 and $7 plans, the $15 plan includes calling to mobile numbers in 32 countries as well as landlines in over 70 countries. As well as that, you'll get 1,000 minutes to use calling mobile numbers in Mexico. (See where the Mexico thing comes in now?)
For $15, customers will get:
Unlimited texting to over 200 countries
Unlimited calling to landlines in over 70 countries
Unlimited calling to mobiles in 32 countries
1,000 minutes calling to mobiles in Mexico
Unlike the $7 and $10 offerings, the $15 Stateside International Talk and Text plan will be available to all Simple Choice plan subscribers, including No Credit Check customers. All three plans will be available to prepaid users, providing they're on a plan of $50 or more. I must re-iterate, to make this 100% clear: This is not international roaming. It is calls from the U.S. to international landline and mobile numbers.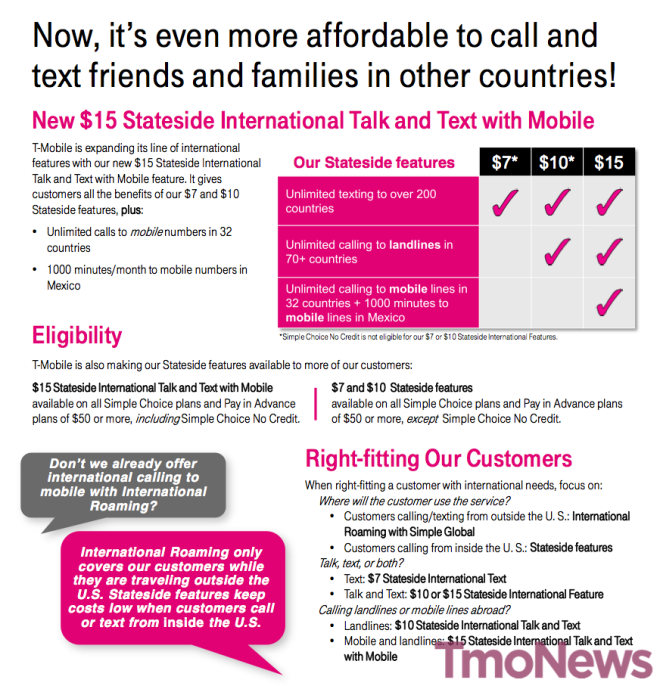 As well as this new plan, Simple Global Wi-Fi calling rates are being changed to a flat-rate of $0.20 per minute, with no toll charges. As for when these new plans/offerings are going to be available. The internal leak we got hold of suggests that systems will be updated to start offering it on February 23rd, which matches up nicely with the information we got previously.
Currently, we don't know which 32 countries are going to be included, but as soon as we hear specifics on that the post will be updated. It certainly sounds like an interesting offer for those with friends or family abroad. Racking up huge bills by calling abroad can be scary. Of course, Skype/FaceTime and other video calling services are available, but they always require a solid data connection on both sides of the call. And that's something you can never guarantee.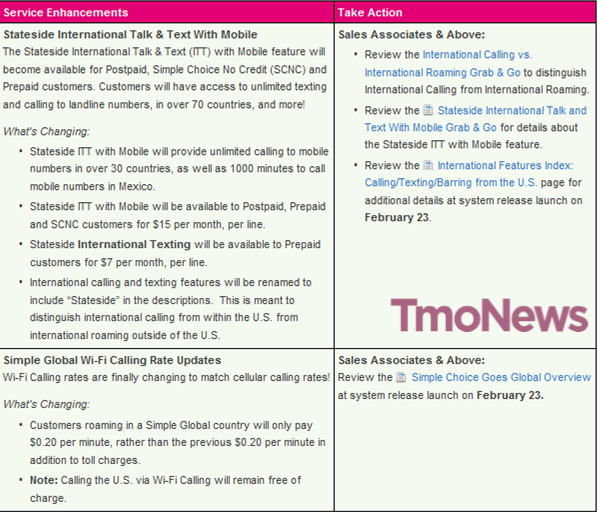 What do you guys make of these changes? Are they welcome? Apart from the fact that you can now pay $15 per month and ring me as often as you like, will you see any benefits? (That last one was a joke. I think.)