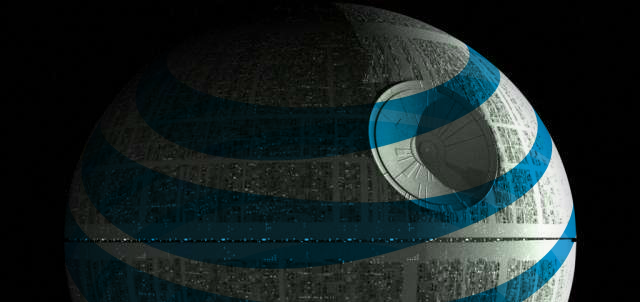 John Legere might get some stick online for the way he continuously aims jibes at AT&T, but the carrier makes it difficult to resist. Last year, it responded to T-Mobile's Uncarrier phases almost every time with what was normally a pale imitation promotion. Even before Uncarrier 4.0 happened (after we'd published a rumor regarding "Houdini") AT&T's knee-jerk response was to offer T-Mobile subscribers up to $450 to switch.
Clearly, that move isn't working. After all, up to $650 is substantially more than what AT&T is offering, and it's getting people on to plans that will save them a heck of a lot in the long run. T-Mobile's offer to pay off early termination fees for customers from any carrier has provoked yet another typical response from AT&T.
AT&T customers with 2-year service plans will be allowed to cancel their plans after six months, as long as they switch to a new Next plan.
"Loyalty pays with AT&T.* Available now, existing customers on 2-year service agreements** can upgrade to the hottest new smartphone for $0 down with AT&T Next. At the same time, they can move to our new Mobile Share Value plans and start realizing significant monthly rate plan savings, featuring unlimited voice and text, and the ability to add smartphone lines to a data plan for $25 more per line per month, all while enjoying the nation's most reliable 4G LTE network***

AT&T customers on a two-year agreement as of January 18, 2014 are eligible to upgrade to AT&T NextSM six months into their contract. To check their eligibility, customers can dial *NEW# and begin to take advantage of this early upgrade opportunity in AT&T retail stores, and online at www.att.com."
Check out all those asterisks! Normally, they mean lots of fine print. And it's no exaggeration to say that the asterisked notes are lengthier than the actual announcement. Customers will be eligible to upgrade once they've completed six months with the company, after January 18th. Anyone who signs up for a new contract after January 19th (two days ago) will be able to upgrade after 20 months. Full press release here.
The other option – of course – is they could ditch their contracts, trade-in their phones and switch to T-Mobile.
Clearly, the motivation behind this is that AT&T doesn't want its existing customers to leave for Magenta. T-Mobile is a clear threat, and so the temptation of a sparkling brand-new phone without having to go through the hassle of switching carriers might persuade a few to stay.
[UPDATE: AT&T emailed us responding to this post with the following statement: 
"Our latest move is business as usual for us.  From time to time we change our upgrade policies.  We've done so in the past a number of times.  With this latest change, our customers can take advantage of our best rates with Mobile Share Value and get a new smartphone with AT&T Next. "]