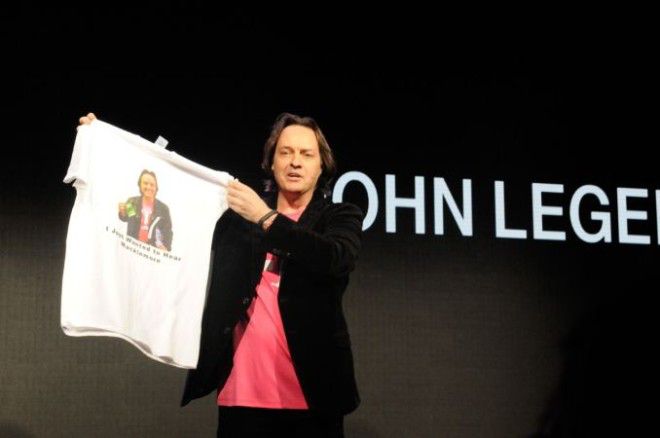 What happens in Vegas definitely doesn't stay in Vegas when it comes to T-Mobile. The company's announcements and Legere's AT&T party crashing have been the talk of the web for the past 7 days. Today, New York Times published an interview with T-Mobile executives, John Legere, Mike Sievert and and Braxton Carter, in which the execs discussed the questions we all want to know answers to. Will Sprint buy T-Mobile? What did getting thrown out of AT&T's party feel like? What do you think of AT&T's responses in the market place?
"I Just Wanted To See Macklemore!"
Many industry watchers believed (some still do), that John Legere's attendance at an AT&T party at CES was a publicity stunt. It wasn't, but it certainly turned the spotlight on to T-Mobile. In answer to what it was like getting thrown out, Legere stated it was "Surreal". Turns out, he had passes to attend the party, he really wanted to see Macklemore performing.
"We were nicely behaving, I didn't have the magenta T-shirt out till it got too hot, and I was surrounded by four or five large security guards. I give my best line, they took me into a side area and said they need to speak with me and I'm thinking, this is going well."
After double-checking with the guards that AT&T's chief really wanted him out, they got the nod. Apparently he was "trespassing", despite having an official pass.
A Sprint Buyout?
Here's one question where we don't have a clear answer. At least, we don't have a "yes" or "no" response. Chief marketing officer, Mike Sievert answered:
"We envision a better industry where if you're not happy with where you are, you can just move to another carrier. We're willing to take that risk, we're passionate about being the best and we know people will stay. It's a different philosophy.

We've no interest in any future for our company that would change our basic philosophy. None."
We can translate that two ways. Either a) A buyout is going ahead, but T-Mobile will continue with its philosophy and focus on changing the wireless industry, or b) A buyout isn't happening. It did get me thinking, surely if T-Mobile has recently become a company that's viewed as an attractive proposition, it's because of its moves in the market. It's because of all the steps of the Uncarrier push. No company buying Tmo would get rid of that, surely?
AT&T?
Despite the vast gap in subscriber numbers, T-Mobile's challenge is almost always directly aimed at AT&T. A lot of that is because the company keeps on taking the bait whenever Legere takes aim at its practices. This back and forth is set to continue and hopefully make 2014 as interesting as 2013 was. In fact, I have to say, last year was the first year that the U.S. carrier scene didn't bore me to tears.
Legere's response to AT&T's sponsored data announcement:
"Can you imagine that that was one of the top things you have to announce at CES, that your customers are so pissed about their data caps you've found a way to generate a revenue stream?"
And on the company's responses to Uncarrier in general:
What I find interesting is people really believe that AT&T hasn't started fighting yet. They're in full fight mode. You go fromNext, you go to zero down payments, you go to what they did over the holidays — they changed their dress attire in the stores. And then they came out with a plan to try to throw cash at people. That's as good as it gets and it's not working.
I've only picked up the highlights from the interview here. The short interview is well worth reading in full. Head on over to NYT to read it all.
Source: NYT