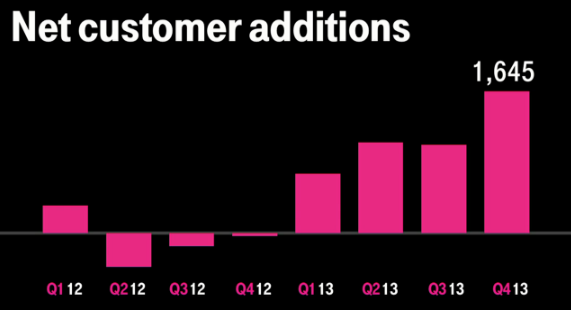 Uncarrier is officially working. John Legere announced last quarter's results, a little earlier than planned. In the event at CES 2014, he ran over the most important figures and it makes for incredible reading. The chart above says it all. 2013 was a massive improvement on the year before, and customers are jumping to T-Mobile in huge numbers.
In the last quarter, Tmo added an impressive 1.6 million subscribers, that's 60% more than it did in the quarter previous and Q2. Compare that to the 515k lost in the same quarter 12 months before, and you see the picture clearly. Overall, magenta added 4.4 million customers to its network in 2014. That makes it the fastest growing wireless network in the States.
On the subject, Legere stated there are two possible outcomes. Either a) T-Mobile becomes the biggest carrier in the States, or b) The wireless industry changes to compete. Either of those options is good with John.