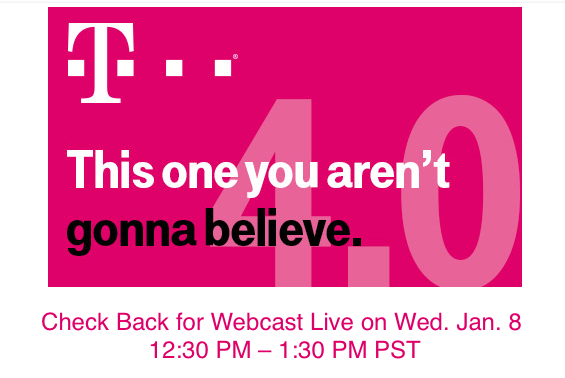 If you've been counting down the days, weeks, minutes, hours since we found out Uncarrier 4.0 was happening, you'll be glad to know you won't be restricted to reading live blogs. Obviously, there will be some good ones out there. The Verge is going to be covering it, and their live blogs are generally always a good read. However, T-Mobile's going to be making it available as a live Webcast. If you hit the T-Mobile news site, you'll notice there's a placeholder.
We won't be live blogging here on TmoNews, but we do have people on the ground at CES ready to cover anything that's announced. Of course, there'll be plenty of reaction afterwards. Stay tuned.
The Webcast is going live at 12:30 Pacific/3:30pm Eastern.
Link to Newsroom placeholder: http://newsroom.t-mobile.com/phoenix.zhtml?c=251624&p=irol-overview
UPDATE:
Here's a direct link to the webcast (it's Flash!): http://www.media-server.com/m/p/vvymoxcc