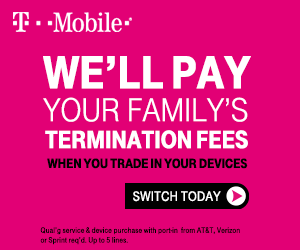 When John Legere teased Uncarrier 4.0 last month, our sources were quick to come forward with information. They suggested that the 4th phase of T-Mobile's wireless industry shake-up was directed at freeing families from their current contracts with other providers. From what we've heard, Tmo will offer up to $350 for each line (maximum of 5) to pay the early termination fee. Perhaps the only catch is that you will need to trade-in your current device(s).
A leaked advertisement discovered by Droid-Life suggests that information is correct. The ad itself leads to a dead page on T-Mobile's website. Clearly there as a placeholder, ready for when T-Mobile makes its plans official.
Thankfully, we don't have that much time to wait until the event kicks off at CES. We've got a couple of Phonedog's editors on the ground ready to report back. We'll keep you updated with all the ins and outs as they happen. As a reminder, the event is taking place at 12pm Pacific/3pm Eastern.
Source: Droid-Life