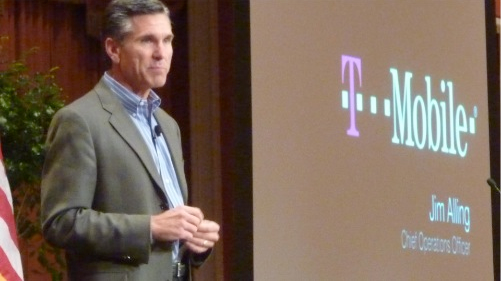 With 2013 drawing to a close, it's hard to look at the overall US network scene and not think, "this was T-Mobile's year." Going from a place a couple of years back where it was almost sold to AT&T and now, where AT&T is copying almost everything Tmo does (presumably because it's threatened), has been a massive turnaround.
Jim Alling, T-Mobile's COO spoke at an investor conference in New York today and commented on the stark contrast between the company now, and 12 months ago.
"What a difference a year makes," he said. "This time last year, I don't think anyone anticipated what was coming. The biggest story is our customer turnaround. We went from losing 2 million customers last year to gaining customers again."
Unsurprisingly, the key to all this was the UNcarrier strategy. Listening to the customer and seeing that the carrier/smartphone system was broken, was the turning point. Being able to offer phones on EIP, without the necessity of having a 24-month contract meant buyers were more free to change phones when they felt like it, and were no longer forced to keep a phone for two years.
He also noted that none of that would have made any difference unless it had also invested in growing its coverage. After the failed bid from AT&T in 2011, Tmo got some spectrum from "Big Blue" which it used to launch its LTE network. Although there are many rural areas still missing out, there are a huge number of people in metro areas with access to Tmo's 4G LTE, with 254 markets and 203 million people within range.
Moving on from here is going to be the next challenge. How does T-Mobile kick on and make sure that 2014 isn't an anti-climax? For me, it's all about coverage from here on in. It has great deals available on top handsets, customers can upgrade freely, they get unlimited data, those together form a great foundation. It now needs to boost its coverage, and to do that it needs to acquire more spectrum, and better quality spectrum (perhaps Verizon's "for sale" A-block).
Alling and the company are aware of this, and it is determined and focussed on buying spectrum. Alling noted that Tmo is open to discussions with low-band spectrum holders. We'll have our own thoughts on 2013 and the upcoming year published soon, but it's good to hear that T-Mobile is keen on addressing the areas we all know need some attention.
Via: CNET