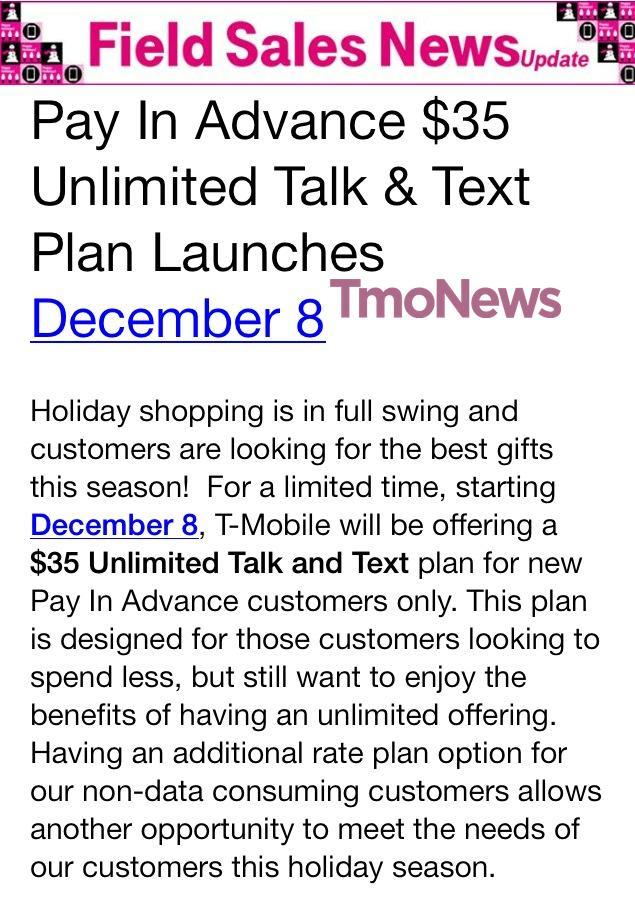 When it comes to value for money, few carriers come close to offering what T-Mobile does. And that value spreads to the pay in advance plans, and is set to get even better. According a recent Field Sales News update, Tmo is set to offer a new plan for a limited time. For $35, from December 8th, you'll be able to get unlimited talk and text. This plan is very much aimed at people who don't really use any mobile data, and would rather call or send messages to their friends/family. I must reiterate, this plan will not come with any data.
As most of you will be aware, around that price range at the moment there aren't many options. $50 will get you Unlimited talk, text and web (4G speeds for the first 500MB) or $60 (with 4G speeds up to 2.5GB) or $70 for completely unrestricted data. For devices purchased from Wal-Mart, or those activated on T-Mobile.com you can get unlimited web and text with 100 minutes talk for $30, or in-store, you'll get 1500 talk and text with 30MB of data.
So, for those who love chatting and texting, there really isn't a massive amount of choice if you're on a budget.
If this plan comes to life – which it looks set to – it would add another string to T-Mobile's already impressive bow. It's supposedly going to be available in two days time. And I guess that's what I find odd about this plan – it's set to launch on a Sunday. Seems like a strange day to start offering a new, well, anything. For now, this is just a rumor, but it'd certainly be good news if it turned in to reality.
[UPDATE: We received an official statement, confirming that this plan is going in to place. 
"We wanted to provide an additional service option for customers who don't have a need for data. This Sunday, Dec. 8, T-Mobile will begin offering a limited-time $35 Unlimited Talk & Text monthly Pay-in-Advance option in all its sales channels. This is designed for those customers who want unlimited minutes and texting on T-Mobile's nationwide network, but are looking to spend less." ]