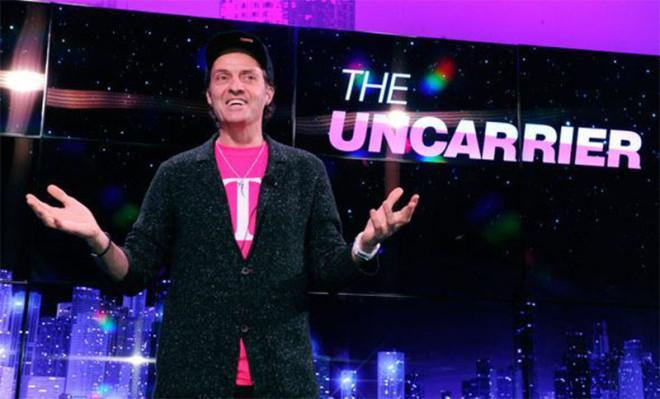 In my short time here at TmoNews one thing's become increasingly clear: Many of you are frustrated by the coverage in some areas. Some of those are only a short distance from major metro areas, who get the benefit of the carrier's fastest available coverage. Incredibly frustrating for you guys, I'm sure. Others – more understandably – are in rural areas of low focus for any carrier.
As I'm typing this, T-Mobile's chiefs are wrapping up the Q&A session in its Q3 earnings call, the results of which I've already posted, but I wanted to highlight in a little more detail some of the most important points and explain that – as a fan of T-Mobile – I'm more optimistic than ever.
Firstly, John Legere made it absolutely clear that the past quarter has been "outstanding". The company added over a million net subscribers. Over 670k of those were postpaid adds, which – any way you look at it – is impressive. For reference, that's the highest net adds of any of the US' major carriers, and is – in fact – more than all other carriers put together. Tmo was also clear not to attribute this success to the addition of iPhone. They're delighted to have a good range of devices, now including all the top Android and iOS devices, but it's the UNcarrier strategy that seems to be pulling in the new customers.
Since the JUMP! offers kicked off in July, T-Mobile has signed up 2.2 million subscribers to those plans alone. That's pretty astonishing. But then again, it's not surprising. Between March (when the UNcarrier movement started) and now, the carrier has tackled three of the biggest complaint points of the carrier-controlled US market. Firstly, device and contract plan costs were separated, then customers were offered the chance to upgrade early with JUMP! then international roaming charges were killed off.
With this popularity and growth, the company has obviously pulled in a healthy amount of revenue which it fully intends on investing in service/coverage. One of those is investing in expanding MetroPCS market coverage. On November 21st, it's planning to bring MetroPCS' service to 15 new markets. But, perhaps more importantly, T-Mobile's own 4G LTE is expanding and will continue to expand. But not just expanding, it's getting faster.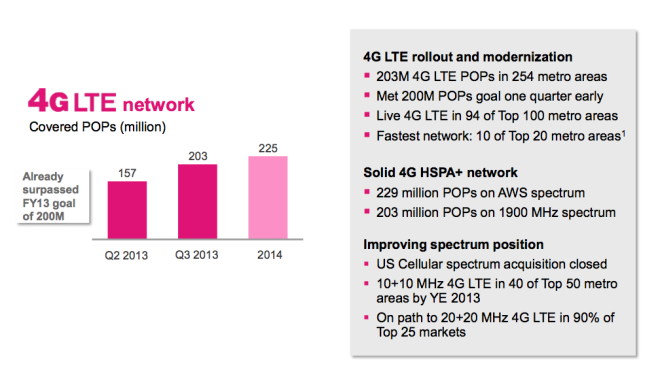 By the end of this year, 10+10 LTE will be in 40 of the top 50 metro areas. For reference, Tmo stated that speeds on this network were around 72Mbps downloads and 20Mbps up. May sound great, but, that's not where it ends. Next year its 20+20 rollout will be kicking in to high gear and will be in 90% of the top 25 markets offering around 147Mbps down and 40Mbps uploads. HSPA+ in both AWS and 1900MHz spectrums are strong with each approaching national level coverage. And, with U.S. Cellular spectrum purchased in the Mississippi area, it's growing well.
One thing that struck me about today's call was Legere's insistence that the company isn't done yet. The latest phase of UNcarrier movement isn't necessarily the last, and coverage is still going to grow further. They announced that they're "still exploring opportunities to acquire spectrum", so we don't think the U.S. Cellular spectrum acquisition and Metro PCS moves are the end of T-Mobile's plans to challenge the top carriers.
From my point of view, I don't think the future's ever looked brighter for the magenta colored carrier. Legere stated "We're not done yet" and "UNcarrier is working!". The company wants to offer coverage matching that of AT&T and Verizon as well as keeping hold of the "UNcarrier value", but doing it in a sensible but deliberate manner. It's a winning combination. In short: Watch this space.