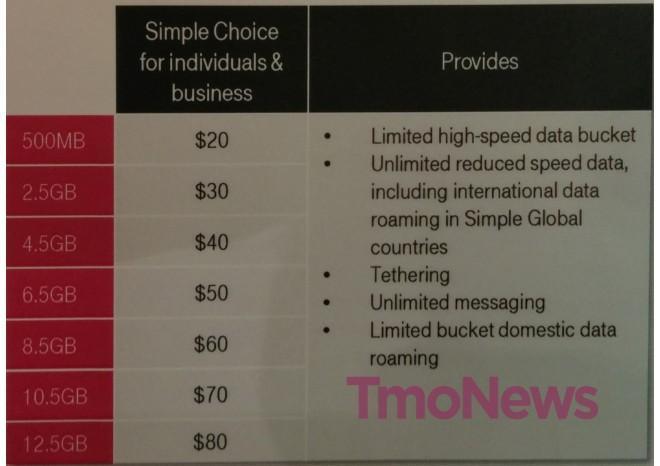 A short while ago, one of our anonymous sources sent us the above screenshot showing some new Simple Choice plans Tmo is supposedly going to implement. Allegedly, they're due to be released tomorrow. The only other additional information we have is that these are "data-only smartphone plans".
Currently, T-Mobile has a three-tier Simple Choice plan system for individuals. Each offers unlimited talk and text, but with different data allowances. $50 gets you 500MB, $60 gets you 2.5GB and $70 gets you unlimited.
Under these new, data-only plans, presumably there is no talking included. "Unlimited messaging" in the chart would clearly suggest that texting is included (unless it's crafty T&C marketing speak for "unlimited messaging through apps like WhatsApp/BBM"). The key thing here is that there's a lot more variety in cost and data allowances. With 7 different tiers going upwards in increments of $10, there are plans from $20 to $80 with data allowances starting from 500MB to 12.5GB. Pricing and allowances are pretty much identical to the mobile internet plans currently on offer.
If you – like me – are not one for talking, these could offer you a great deal more value for money than current plans. Each includes unlimited, international data (on EDGE/GPRS) and the data allowance includes tethering, providing your smartphone has that capability.
We'll find out soon enough is these plans are going to be announced. Hold on to your hats.