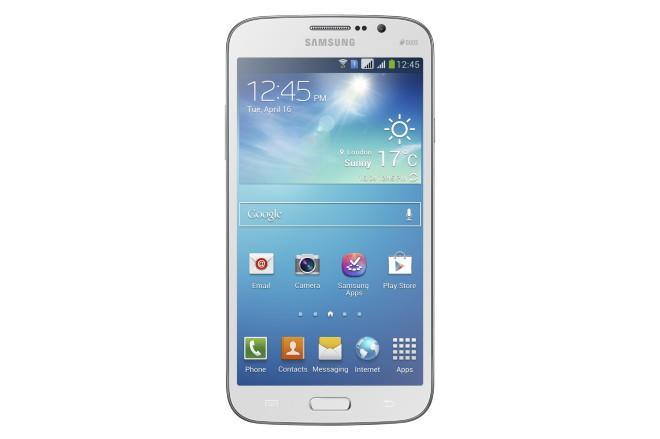 From November 25th, MetroPCS will begin offering the ginormous Samsung Galaxy Mega. The company announced that it would available to buy from its online stores and from retail outlets. Prices are from $349 (plus tax) for new customers who buy the Mega in a MetroPCS store. That price includes an instant $100 rebate in place "for the holiday season" and a $50 rebate for getting it at a MetroPCS store.
The Mega is a huge device, packing in a 1280×720 resolution, 6.3-inch Super Clear LCD display. It also features an 8MP camera, 1.7GHz dual-core processor and a 3,200mAh battery and runs Android 4.2.
"MetroPCS wants consumers to get the most for their money, and by eliminating the need and cost of two separate devices and delivering a premium 4G LTE mobile experience for as low as $40 a month, we're providing quality and value in a mega way," said Tom Keys, COO and executive vice president of MetroPCS. "The Galaxy Mega offers a large screen experience on-the-go with the portability of a smartphone and the larger viewing display of a tablet and we're delivering it on an advanced nationwide 4G LTE network."      
The company also reminded us that its plans and service are coming to 15 new markets from today, taking the number of markets up to 45 in total. If you're in one of the areas below, you will now be able to take advantage of MetroPCS' services:
Albuquerque – Santa Fe, NM
Cincinnati – Dayton, OH
Columbus, OH
Denver – Colorado Springs, CO
El Paso, Texas – Las Cruces, NM
Fayetteville, AR
Indianapolis, IN
Louisville – Jefferson County, KY
Oklahoma City, OK
Phoenix, AZ
Pittsburgh, PA
Portland, OR
South Bend – Fort Wayne, IN
Tucson, AZ
Tulsa, OK
Let us know if you're planning on grabbing the massive phone from MetroPCS, or if 6.3-inches is just a touch too far for your hands.
Source: MetroPCS