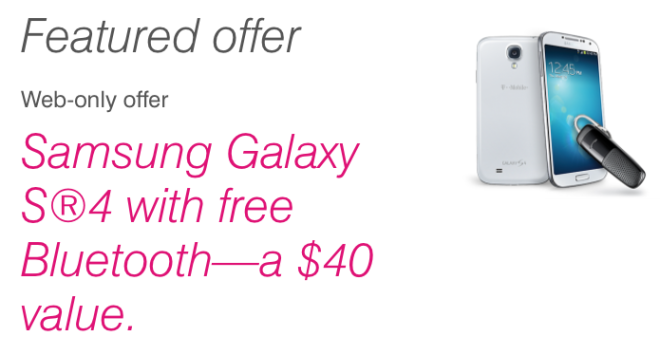 T-Mobile's holiday sales page has gone live and features a handful of tempting offers. With Black Friday arriving in a week, it was about time Tmo showed its hand.
1. Galaxy S4 deal
First off is the "Featured Offer". If you buy a Galaxy S4 on a qualifying plan, you'll get a free Plantronics M25 Bluetooth headset (worth $40). You can also save $50 by using promo code GS4PROMO. That'll take your up front cost down to $49.99 with 24 monthly payments of $22 on EIP.
2. $50 gift card for switching
For a limited time, T-Mobile will give you a $50 promo card to use on in-store purchases when you transfer your number from another network to T-Mobile. Here's how to make use of the offer:
Use this form to check if your number is eligible to transfer
Purchase a new phone or SIM card on T-Mobile's Simple Choice Plan with unlimited 4G data. (Make sure you select overnight shipping to ensure that your device arrives before your old service cuts off.)
Once you have your phone/SIM card, visit t-mobilerebates.com and use promo code TRNSFR5 to get your promo card.
3. Holiday Gift Guide
If you head on over to T-Mobile's holiday gift guide, it's rather handily organized devices and accessories in to groups to help you get ideas for what to purchase your loved ones. Also, you can get 25% off accessories by using promo code 25HOLIDEAL.
The company's also running a competition where customers get a chance to win prizes by creating a wish list, one lucky winner gets $1,750 towards the items on their list. To get started, go over to Wishlist.T-Mobile.com