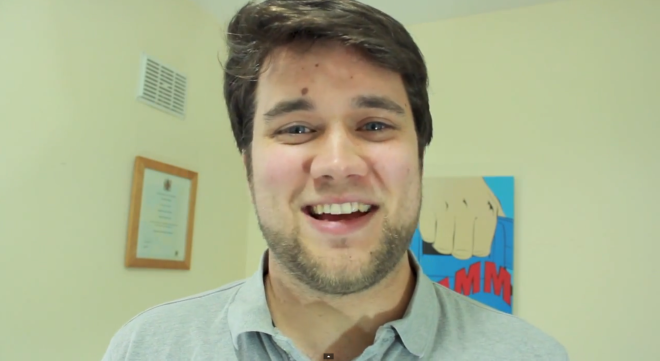 As you all know by now, David left TmoNews last week. It came as a surprise to all of us. You, me and everyone else who heard. But, as you also read last week, Phonedog Media was keen to keep the site running, making sure we kept you up to date with all the T-Mobile related news, leaks and rumors that you know the site for, and that it would be announcing a new leader for this site. Turns out, that's me.
Having seen the same face here since it was founded, I felt it important that you know a little about me, where I'm from, and why I took on the role of running TmoNews.
For those of you who don't know who I am: I'm Cam Bunton. I've been involved in the Phonedog Media group since TodaysiPhone.com launched in January 2010. A site which I've been managing for the past two and a half years. At TiP, I've posted more than 4,000 articles and videos ranging from short news pieces through accessory reviews, tutorial videos, editorials and everything in between.
On a non work-related note – I hail from Carlisle, Cumbria in the UK, have two kids (3 & 4) with another on the way, I have a terrible sense of humor and bad hair. But my accent makes up for all that. I've been obsessed with phones since I was a teenager back in the late 90s, and have – in that time – owned and used just over 50 different devices (that's not including phones I've been loaned to review in my time here).
In my past career, I worked for T-Mobile here in the UK for a few years, and it's a company I grew to love while employed by them. Similar to the States, it was regarded as the #4 carrier behind the likes of O2, Vodafone and Orange. That was up until Deutsche Telekom and Orange teamed up to form one company under the name 'EE'. Coincidentally, it also tried to shake up the mobile industry here back in 2006 when it introduced a range of plans completely contrary to anything available on any other network provider. These 'Flext' plans, offered an alternative to the set call/text/data plans on offer from the others, and gave users credit allowance to use on anything they wanted. Although the landscape has changed since then, it's the closest thing we've ever had to "UNcarrier" here. It was these kind of moves that ensured I always wanted the best for the magenta carrier, even the US and Germany based relatives. To me, it was all the same deal. I – like many of you – was delighted when the AT&T planned buyout didn't go through, despite the fact it would never affect me personally in any way (unless I happen to emigrate to the States some day).
One person I know I'm not: David Beren. It's an unavoidable fact. I can't pretend to be him, and neither will I try to be. I had a very close working relationship with David, and I – more than most other Phonedog employees – will miss him now that he's moved on to pastures new. Never did a working day go by that I didn't chat with him. Whether it was about work, sharing parenting experiences, personal struggles or just catching up and sharing opinions on the latest tech news. I'd step in some times to write a news piece here and there on this site if he needed it. That relationship, my always rooting for T-Mobile, and the fact that I know he cared a great deal about this site, its readers and the carrier were all factors in my decision to take the offer to run it.
I know some of you won't like dealing with a new face, and that's perfectly understandable. But, you can be sure I'll be keeping you all up to date with the latest news. We'll still be delivering important inside information on what's up our favorite carrier's sleeve, and bring you everything you've come to expect from TmoNews.com. Every now and then I might post a handset review, or give my thoughts on some cool accessories or apps, but my focus remains very much on delivering your news and keeping you informed on everything T-Mobile. I'm sure I have plenty to learn about the carrier and about you, and I'm very excited about starting up. I'm especially looking forward to getting involved in the comments. This site's thriving community is a fantastic example of how web interaction and engagement should work, and I'm proud to be here.
In the meantime, if you have any questions for me, use the comments or grab my attention on Twitter. My handle is @TiP_Cam.