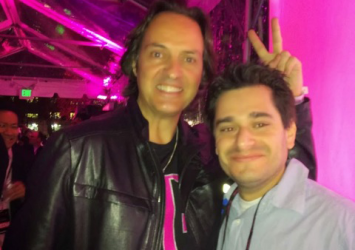 This is a post I never wanted to write, never dreamed of writing and hoped would never come to pass. Alas, my time at the head of the site I founded some 5 years ago will come to end. My time at TmoNews has been one of the most memorable experiences of my life and I wouldn't trade it for the world. Unfortunately, change is in the air and my position as the pre-eminent T-Mobile blogger along with it. I have loved working with you, my dear readers and friends, day in and day out for years. I've lived and breathed T-Mobile for the last 5 years, working on my honeymoon, trips around the country and everywhere in-between.
There's nothing about leaving TmoNews that feels right and it's like an extension of me will be left behind. It's an emotional moment for me and saying goodbye to the site I've worked on for so long is hard. Still, I'll have the memories of your interactions, emails, tweets, Carly (jokingly) punching me in the stomach and meeting all the fantastic T-Mobile execs and employees that make the company great.
TmoNews and by extension myself has had a relationship with T-Mobile that for years was a clear mixture of love and hate. Even so, I've met some of the best PR folks and company execs that I could hope to ever forge relationships with. There's a passionate group running the company and,while the business model may change as the industry continues to shift, I hope to see those Magenta colors around for a long time after I say my goodbyes.
I'll miss you all terribly and while I know it's sappy to be emotional about a blog, this site has been my baby for so long I don't know anything else. TmoNews has been a part of my life through my graduate degree, my wedding, the birth of my son and so many other personal memories that I'd have to create a separate post just to mention them all.
I hope you all continue to enjoy and love the site and its leadership, whoever that may be, moving forward. TmoNews is bigger than any one man and T-Mobile deserves your continued support. I mean come on, we need someone who will continue to watch out for the awesome one-liners from T-Mobile's CEO John Legere!
I wish you all the very best of luck, mostly in life but also in your next smartphone selection and app download choices. Life is full of far too many trials and tribulations so be sure to remember…it's just a phone.
As for what's next, that's a very good question and I wish I had a good answer but for the moment, I'm open to wherever the road takes me.
Farewell, my friends and all the best.
If you wish to follow me and my random collection of thoughts about the world, you can do so at:
Twitter: @davidj
Google+: http://goo.gl/RivFqe
E-mail: davidjberen@gmail.com