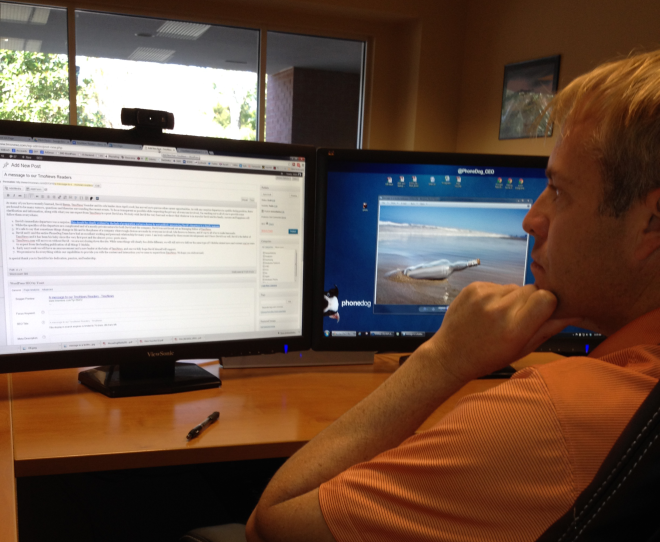 As many of you have recently learned, David Beren, TmoNews' founder and its sole leader since April 2008, has moved on to pursue other career opportunities. As with any surprise departure in a public-facing position, there are bound to be many rumors, questions and theories surrounding the recent events. To be as transparent as possible while respecting the privacy of everyone involved, I'm reaching out to all of you to provide some clarification and information, along with what you can expect from TmoNews in a post-David era. David has been part of our PhoneDog family since February 2009, and we truly wish him the very best. We know that whatever is in store for David and his family, success and happiness will follow them.
David's departure was a surprise. This should be evident by the lack of preparation we have shown by not publicly announcing David's departure in a timely manner.
While the specifics of the departure are complicated and of a mostly private nature for both David and the company, David was not forced out as Managing Editor of TmoNews.
It's safe to say that sometimes things change in life and in the phases of a company, tough choices are made by everyone involved. Life throws us lemons, and it's up to all of us to make lemonade.
David and I and the entire PhoneDog team have had an excellent working and personal relationship for many years. I am truly saddened by these recent developments and I know David is as well. David is part of our family and the father of TmoNews. The website has been his baby since the very first post, and he has grown it substantially in the 5,000+ posts since that date.
TmoNews.com will move on without David – we are not closing down the site. While some things will clearly be a little different, we will strive to deliver the same type of T-Mobile related news and content you've come to expect from the leading publication of all things T-Mobile.
Early next week we will be announcing the new leader of TmoNews, and it is one we fully hope David himself will support.
We promise to do everything within our capabilities to provide you with the content and interaction you've come to expect from TmoNews. We hope you stick around.
A special thank you to David for his dedication, passion, and leadership. David's goodbye post.
Sincerely,
Tom Klein
Founder/President of PhoneDog Media