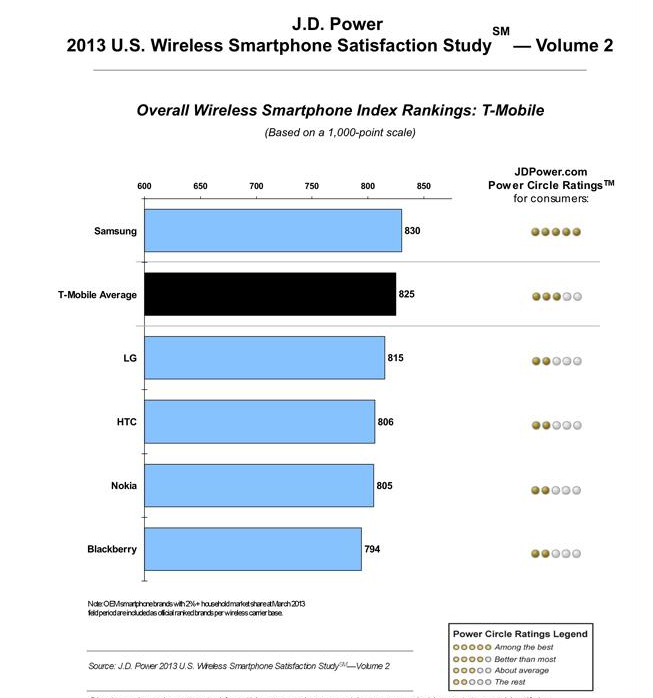 Finally, a JD Power poll for T-Mobile that doesn't show the carrier in last place! All sarcasm aside, the new second volume of the US Wireless Smartphone Satisfaction Study results are in and Samsung takes the top honors on T-Mobile's network. Overall satisfaction for smartphone devices on T-Mobile ranks them third behind AT&T and Sprint customers, but before Verizon.
The poll finds that T-Mobile customers are more likely to select their smartphone choice based on price, where Sprint customers are more likely to buy because of phone features. Among iPhone owners, satisfaction is highest on Verizon with Samsung tops on Sprint. The BlackBerry Z10, Lumia 920, Galaxy note II and iPhone 5 are the most consistent performers across the nations four largest networks.
"It's very interesting to see that satisfaction performance differs by smartphone brand across Tier 1 carriers," said Kirk Parsons, senior director of telecommunications services at J.D. Power. "This indicates that carrier services and how these carriers position specific features and services on their devices influence the experience customers have with their smartphone device."
The 2013 Volume 2 US Wireless Smartphone Satisfaction Study is based on 16,421 smartphone customers conducted between February and August 2013. The study measures consumer satisfaction in four critical categories: performance (33%); physical design (23%); features (22%); and ease of operation (22%).
Ultimately it's hard to know whether Samsung would would have topped Apple on T-Mobile as the company was omitted from the survey. The obvious reason for that is that? The iPhone only became available on T-Mobile in April leading to the possibility that a limited timeframe for the iPhone 5 release could have skewed the results. Even without the iPhone, it's easy to understand why Samsung tops T-Mobile, but it's interesting to see LG top HTC. Nokia and BlackBerry take the fourth and fifth spots, an unsurprising set of results for the 3rd and fourth largest ecosystems.
The full set of carrier results is available at the JD Power link below.