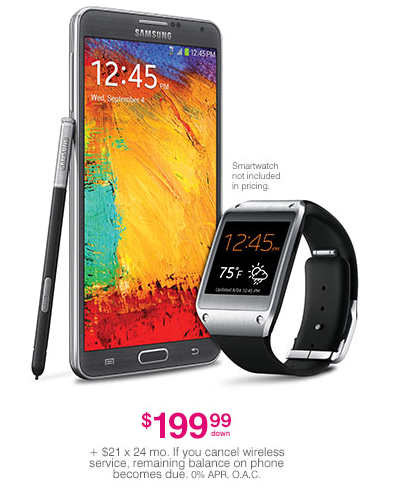 In a bit of good news to start the week off right, T-Mobile just dropped word the Galaxy Note 3 will go up for pre-order on September 18th. The device itself will launch on October 2nd alongside the Galaxy Gear smart watch, but you can get your orders in early and make sure you are one of the first with Samsung's newest flagship device. Pre-order shipments are expected to "start shipping on or before October 2nd." The Galaxy Note 3 will sell for $199.99 down with 24 monthly payments of $21 each with the Galaxy  Gear smartwatch available for $299, also on October 2nd.
The Galaxy Note 3 pairs sophisticated design and exceptional functionality in a thin, lightweight smartphone with a brilliant 5.7-inch Full HD Super AMOLED® display, which provides breathtaking visuals and crystal-clear detail. The refined S Pen™ with Air Command™ delivers innovation to help users take control of their day with various functions including Action Memo™, Pen Window™ and S Finder. When paired with Samsung's first wearable experience, the Galaxy Gear™ companion smartwatch, the Galaxy Note 3 experience is extended to the wrist and allows customers to interact with their phone like never before.

The Galaxy Note 3 will be available to pre-order on September 18 for $199.99 down with 24 equal monthly device payments of $21[1] (plus taxes and fees) with T-Mobile's Simple Choice Plan. Pre-ordered smartphones are expected to start shipping on or before October 2. The Galaxy Note 3 and the Galaxy Gear companion smartwatch (sold separately) will launch nationwide at participating T-Mobile retail stores, select dealers, national retail stores and online at www.T-Mobile.com on October 2. For more information, please visit https://explore.t-mobile.com/samsung-galaxy-note-3.
Is the Galaxy Note 3 your next T-Mobile smartphone? Don't forget to take our current "What's your next T-Mobile smartphone" poll where the Galaxy Note 3 is working to catch up to the Nexus 5 as your next Magenta device.