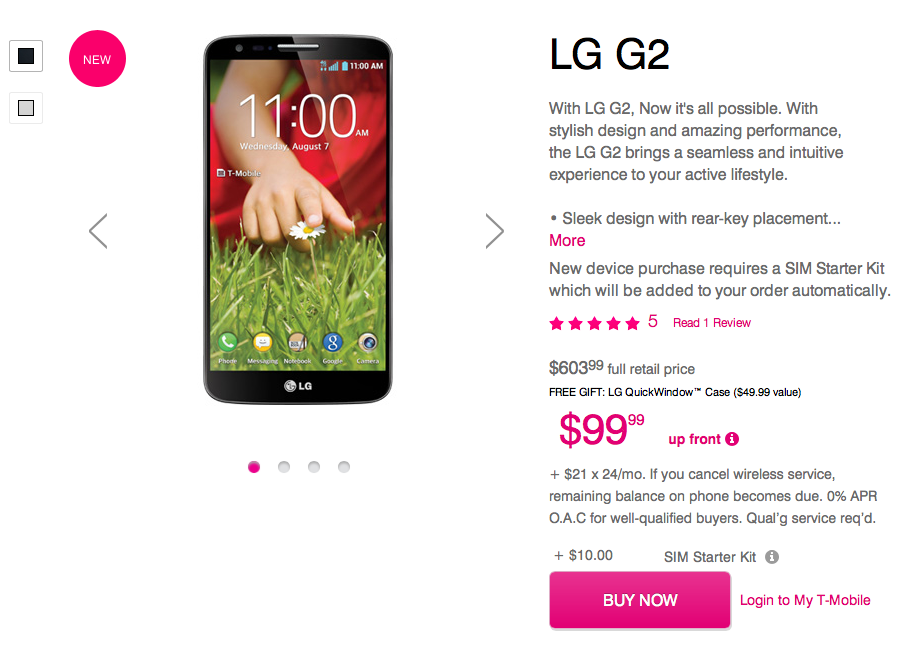 Some good news this morning as the LG G2 goes up for pre-order ahead of schedule through T-Mobile's website. The LG flagship which features a 5.2″ Full HD display, 13 megapixel camera, rear-key functionality, 3000mAh, 2.26 Qualcomm Snapdragon quad-core CPU and 2GB of RAM.
The device will hit T-Mobile retail stores, select dealers and national retail sores on September 25th. Through T-Mobile's Simple Choice plan, the G2 will cost "well-qualified" buyers $99 down with 24 monthly installments of $21.
The innovative LG G2 – with a beautiful 5.2-inch Full HD display, a 13MP camera, an ergonomic and intuitive rear key design and easy-to-use multitasking applications – is sure to stun and provide virtually all the advanced features smartphone users expect. Starting today, the all-new LG G2, the first U.S. smartphone to launch with the new Qualcomm Snapdragon 800 processor, is available to pre-order and expected to go on-sale September 18 online at www.T-Mobile.com. The device will launch nationwide at participating T-Mobile retail stores, select dealers and national retail stores on September 25. The flagship device will be available for well-qualified customers for $99.99 down with 24 equal monthly device payments of $211 with T-Mobile's Simple Choice Plan. The smartphone will be available in a black finish as well as a white finish, which will only be offered online.