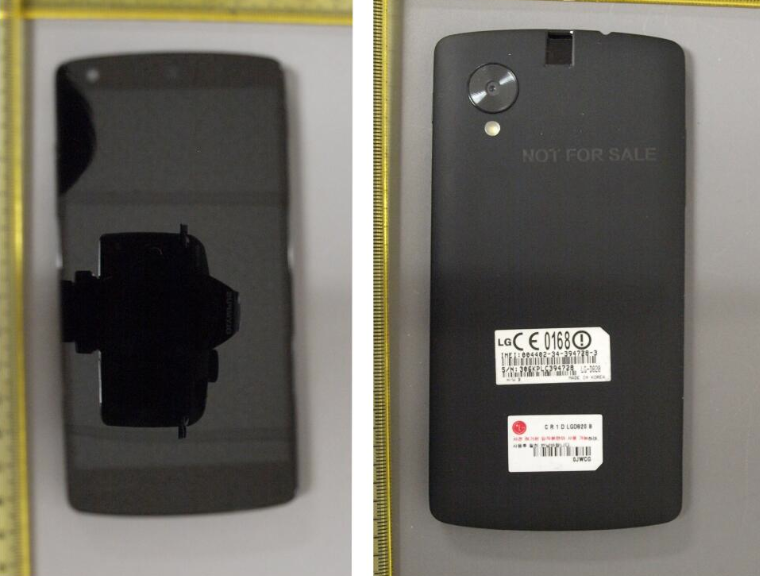 Newly published documents on the FCC website show us what could be the clearest look at the upcoming "Nexus 5" to date. It's still speculation that this device is in fact the next-generation Nexus, but for the most part there's plenty of agreement across the tech world that this is a Nexus smartphone.
The listing, first spotted by Phonescoop was submitted as a "class 2 permissive change" of the LG G2 smartphone. Like the Optimus G to the Nexus 4, the Nexus 5 is now suspected to be a variant of the G2 hardware. The listing itself calls for "some hardware changes (antenna/PCB adjustments)" to the device. However, the images themselves do show a device that appears quite different from the G2, with a look that more closely resembles the Nexus 4, save for the different camera design. It's hard to tell however considering the quality of the images is still a little blurred.
As for details on the hardware, the listing states the device is 5.19 inches in height and 2.69 inches in width. That's comparable to the Nexus 4 which was 5.27″ in height and 2.7″ in width featuring a 4.8″ display.
As October gets closer and closer on our calendars, our expectations and excitement for a new Nexus device continues to increase. Let's hope Google and LG don't keep us waiting much longer for a "surprise" announcement.
Phonescoop via FCC; The Verge