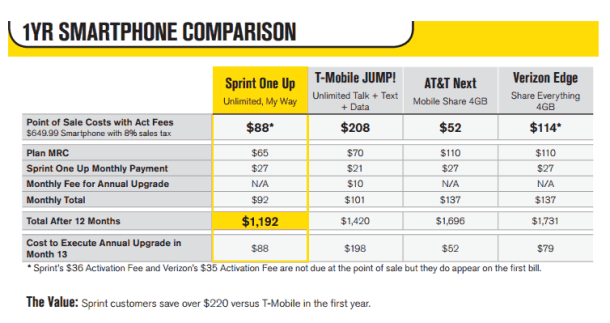 I really can't wait to see how T-Mobile CEO @john_legere tweet reacts to the news that Sprint is preparing to launch its very own JUMP! competitor. Calling it "One Up," Sprint is the last of the national carriers to echo T-Mobile's early upgrade program after AT&T and Verizon launched their own programs soon after T-Mobile went live with JUMP!
While it's safe to argue that AT&T Next and Verizon EDGE are junk programs and nothing more than crafty accounting, Sprint's effort appears to be notable.  One Up will be more like a JUMP! style plan where Sprint customers will receive a break on the plan in exchange for a monthly installment model. Sprint's program will let customers pick up a new phone for no money down and pay for the device in 24 monthly installments. For example, a smartphone that costs $649 will cost $27 a month with the difference added to the 24th and final payment. If the customer leaves Sprint early, the balance must be paid in the final month of service.
After one year, a customer can upgrade to a new device by trading in their old one. A customer will sign up for One Up for an Unlimited, My Way or All-In plan. The One Up discount will offer a $15-month break allowing for unlimited talk, text and data against a comparable plan for T-Mobile that costs $70.
If you take a look at Sprint's comparison sheet, by some accounts One Up is a better deal after 12 months thanks to the "Sprint spin." However, JUMP! also allows you to make a move after 6 months and not one year. The biggest impact seems to arrive from the $10 charge T-Mobile bills monthly to JUMP! customers, but this sheet ignores that JUMP! also includes full warranty and insurance protecting your device against pretty much everything save for nuclear attack and alien invasion. Sprint notes that customers save $220 versus T-Mobile in the first year, but a good portion of that amount accounts for the $10 charge from JUMP! The good news is that JUMP! isn't an empty value if you consider insurance and an extra warranty.
T-Mobile's best move to counter Sprint's plan may be to talk up the extra value the $10 JUMP! price offers, not to mention how snail-moving slow Sprint's network can be.