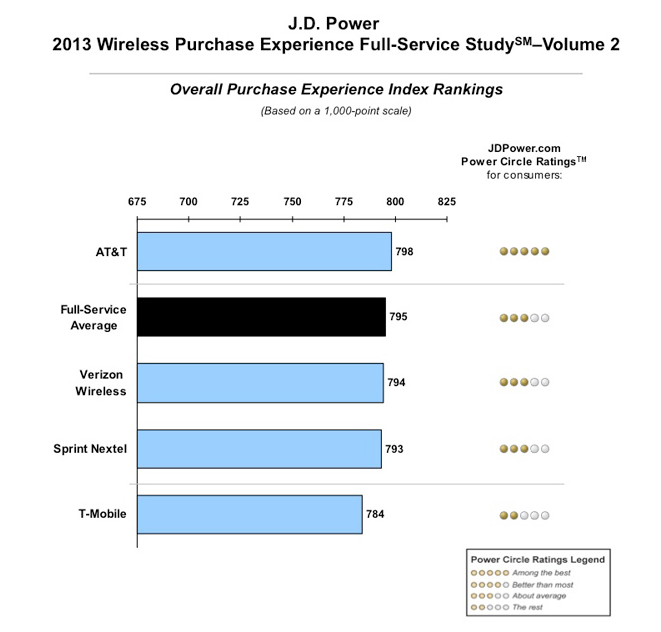 T-Mobile still has plenty of work to do according to a new JD Power award that once again shows the carrier bringing up the rear in Volume 2 of the Wireless Purchase Experience. The semi-annual study evaluates "the wireless purchase experience of customers using any one of three contact channels: phone calls with sales representatives; visits to a retail wireless store; or online. Overall customer satisfaction with both full-service and non-contract branded carriers is based on six factors (in order of importance): store sales representative; website; phone sales representative; store facility; offerings and promotions; and cost of service."
Suffice to say, AT&T has bragging rights as they take home their first first-place award among Tier 1 carriers. AT&T's score of 798 was followed closely by Verizon at 794 and Sprint at 793. Unfortunately, T-Mobile came in at 784, which is still fairly close if you recognize this is all out of a 1,000 point scale. Given that, these scores are really just super slim margins separating best from worst but bragging rights is where the fun is at. Besides, T-Mobile has a trophy case full of JD Power awards that needs some new love and probably some dusting.
As for MetroPCS, the prepaid carrier was barely edged out by Boost Mobile with a single point separating them in the non-contract aspect of the study. Still, Boost, MetroPCS and Tracfone all took home scores higher than the nations four largest carriers.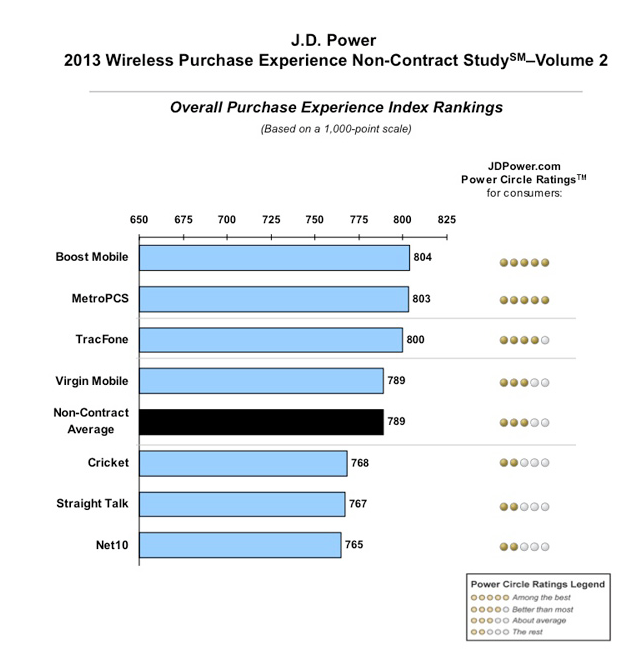 If we jump back to August 1st and the release of Volume 2 of the JD Power award for customer care, T-Mobile again was edged out by the other nationwide carrier. T-Mobile's CEO John Legere wasn't having any of that however and showed how much his company improved based on the total point increase T-Mobile showed between Volume 1 earlier this year and the Volume 2 study. Needless to say, all the spin in the world doesn't take away from the idea that while these awards aren't likely to impact the minds of many shoppers, it's still something T-Mobile should take to heart.