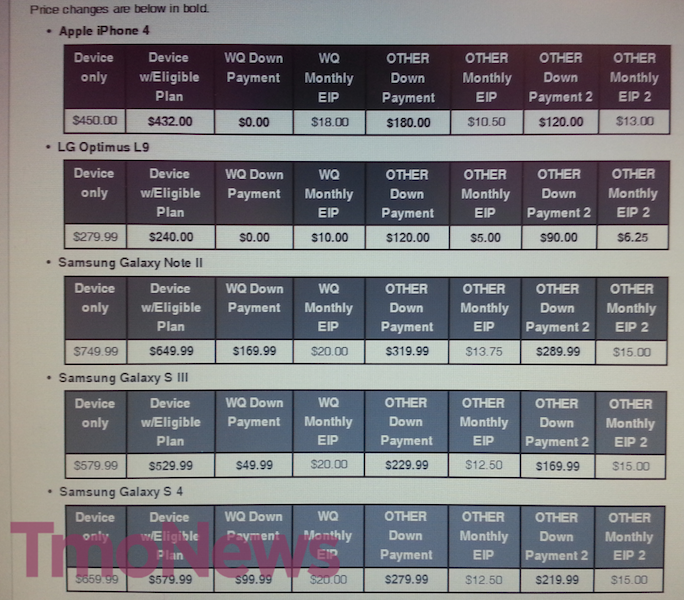 Update: T-Mobile just announced the price drop, full announcement below!
A bit of good news this morning for future Galaxy S 4 owners as T-Mobile drops the down payment to $99/$20 per month from $149. Oh but that's not all as the Galaxy Note II drops to $169.99 down/$20 per month and the Galaxy S III to $49.99 down and $20 per month. The iPhone 4 (available in select areas) and LG Optimus L9 are also seeing some changes but our attention is really on the Galaxy S 4. No explanation has been provided for the price change and there's no sign whether this is a limited time change, though I suspect it's permanent. Still, the change itself reminds us that arguably the best Android phone on T-Mobile just got a bit cheaper. You won't complain about that, will you? WILL YOU?
Wanted to share the latest Un-carrier move from T-Mobile, offering the highly popular Samsung Galaxy S 4 at the low upfront price of $99.99 down, plus 24 monthly payments of $20. This limited-time promotion is available starting today, June 12, through July 13, 2013, and allows consumers to get the device for less upfront at activation than at the other major national carriers.

"People told us we'd be crazy to drop our price on the hot-selling Galaxy S 4 when we already offer such a low-out-of-pocket cost — so we did it," said Mike Sievert, chief marketing officer, T-Mobile US. "Some of our competitors require customers to sign a restrictive two year service contract or participate in a complicated trade-in scheme to get to their advertised price. We decided to just give customers the phone they want at the out of pocket cost they are asking for. That's what you strive to do when you are America's Un-carrier."

In addition to the Galaxy S 4, T-Mobile is lowering the upfront costs for two more highly desirable Samsung 4G LTE devices. For well-qualified customers, the Samsung Galaxy Note® II will be available at $169.99 down, plus 24 monthly payments of $20 and the Samsung Galaxy S® III will be available for $49.99 down, plus 24 monthly payments of $20. When combined with T-Mobile's Simple Choice Plan, customers will have access to the latest 4G LTE smartphones, as well as unlimited data, at a price point that's sure to meet the needs of a variety of budgets.