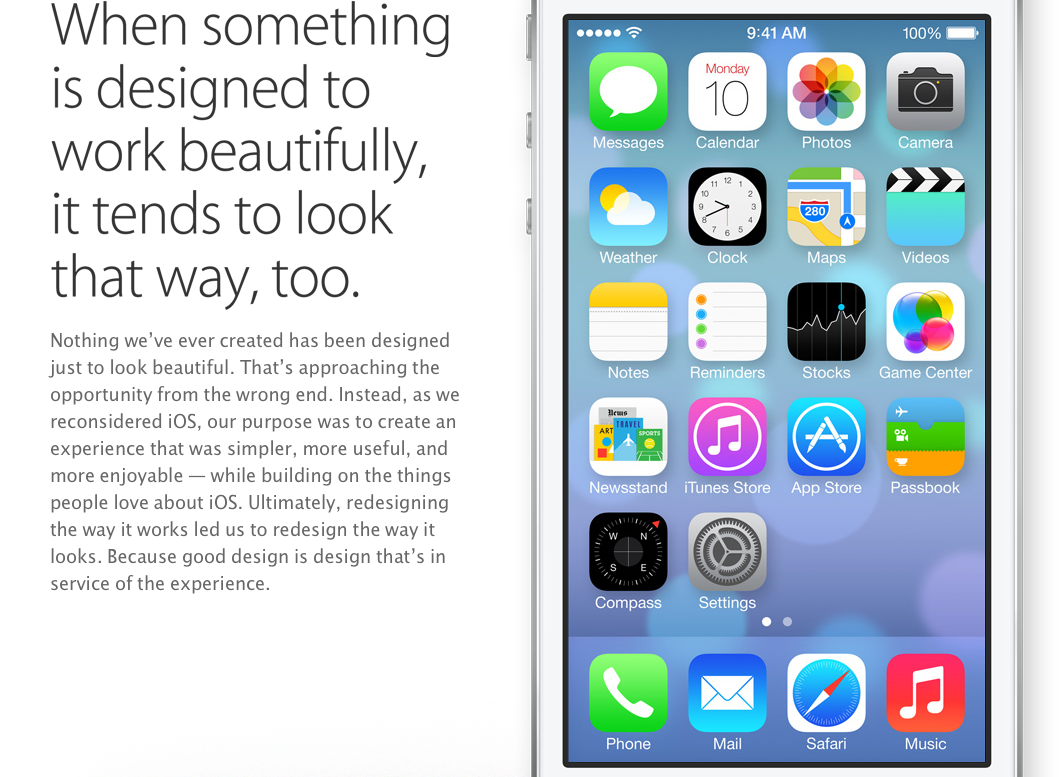 Any complaints about iOS being stale and in desparate need of a revamp got their wish today and in some ways, it's truly Apple and something else entirely. First and foremost is the completley revamped design and I do mean everything…from the fonts, to the color schemes, to the icons themselves, it's all very different. There's no question this is a brand new iOS, for better or worse the moment you load this up on your existing device, outside of the standard icon springboard, everything is different. It's the biggest revamp iOS has ever had and moves well beyond incremental updates like adding a wallpaper as your background.
From our friends at TodaysiPhone.com: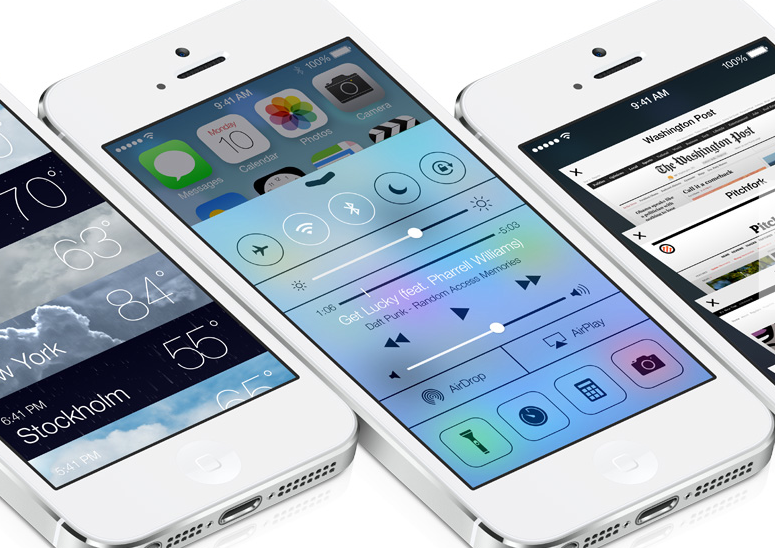 Control Center
Alongside the brand new user interface is some new features. Firstly, control center. This swipe upwards feature allows you to reach your most used settings, brightness, aeroplane mode, and a brand new stock flashlight, all in one place. Incredible.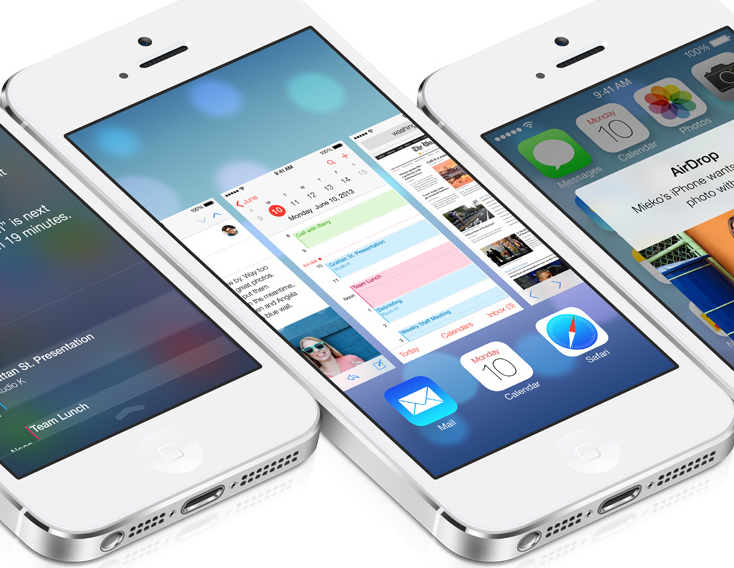 Multitasking
There's also a brand new multitasking system based around UNIX, with battery life in mind. Now, in iOS 7, multitasking is available for all apps! iOS 7 notices your usage patterns, and provides power in proportion to how much you use it. It also has intelligent scheduling, such as, opening your news apps automatically once it understands the times you most often use them, this also works for push notifications, where a notification will trigger power allocated to the relevant app. Again, multitasking looks beautiful, and really needs to be seen to be understood.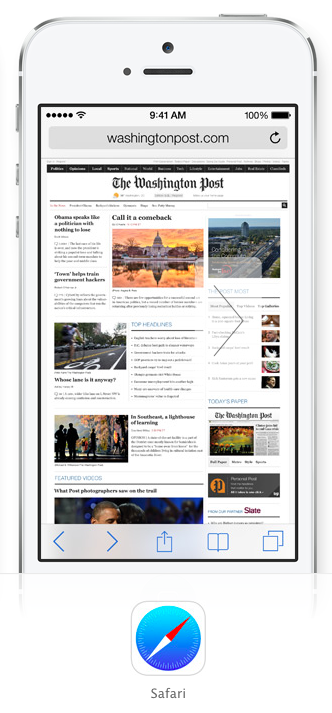 Safari
Safari in iOS 7 has a brand new full screen interface, with one tap access to favorite website, and a brilliant new tab interface. It also has updated parental controls, and iCloud keychain, already mentioned in our Mac update! There is also updates to Safari's bookmarking system, and continuous scrolling between articles. Tabs are no longer limited to 8, and you can even see tabs you had open on a different iCloud device!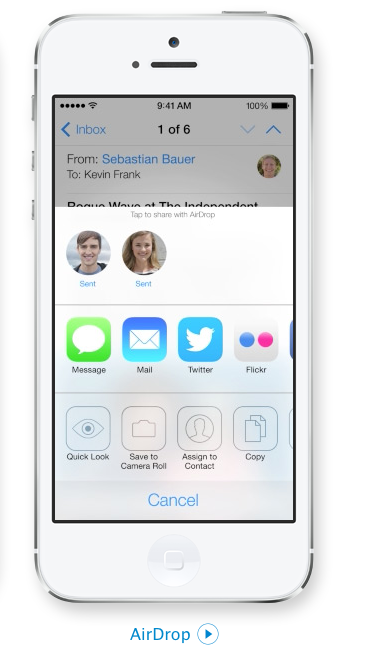 AirDrop
Another great new feature AirDrop, allows you to share content and material with your friends in the easiest way possible. No need for "bumping your phone" (take that Samsung), it uses P2P Wi-Fi to share with as many people as you like.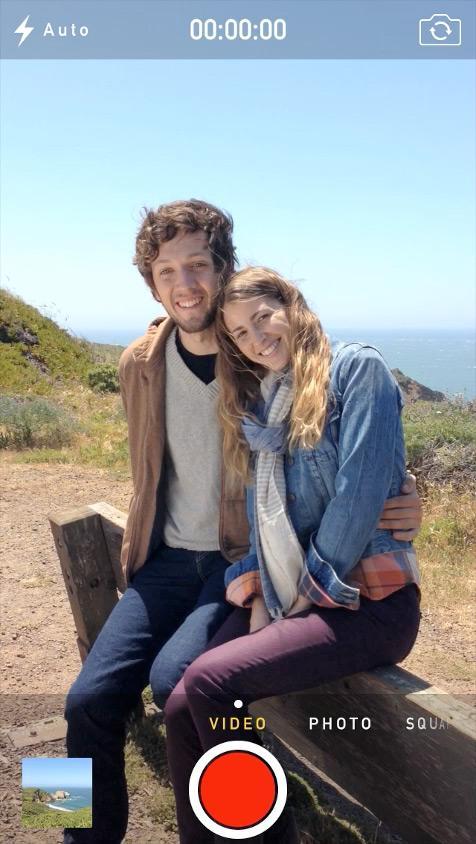 Camera
The camera app allows you to swipe between your video, still, square and panorama cameras, complete with built-in filters to allow on the spot editing. There is also a brand new features called "Moments", which organises your photos based on where and when they were taken, getting rid of the endless stream of photos we're currently used to. There are some fantastic iCloud sharing options, which support video for the first time!
Siri
Siri has a brand new interface, and a beautiful results page that matches the rest of iOS' clean, polished looks. There are 2 brand new voices, male and female, with support for French and German, aswell as English, and plans to add more language support. It can take instructions, such as "adjust my brightness". It also has integration for Twitter, Wikipedia and Bing!
iOS in the Car
Building on "Eyes free", this takes iOS in-car integration to the next level. Now, iOS will actually be displayed on the in-built screen in your car, turning your car into one giant iPhone with wheels!
App Store
Another brand new interface in-keeping with the rest of iOS. New categories include age-ranges, and apps based on popularity in your local area, tailoring your suggested apps to your current location.
Auto-updates
Finally! App Store now updates your apps automatically! Perhaps one of the best updates yet!
Music
"The best music player we have ever done". Another brand new interface, with iCloud purchases right in your music app. Your iTunes movies are also now available immediately on your iOS device.
Activation lock
Now, if a thief tries to turn of Find my iPhone, or tries to wipe your phone entirely, your iPhone will simply shut down, ensuring only you can restart it. This is a huge development in light of ever increasing mobile phone theft.
iOS 7 also features a massive list of new features that Apple didn't have time to mention, such as notification syncing. iOS 7 is available for iPhone 4 and later, the iPad 2 and later, the iPad mini and the 5th generation iPod touch! Developer previews for iPhone begin today, with iPad previews coming soon. iOS 7 will drop publicly this fall!
There's PLENTY to look through and I'd urge iOS fans and even those that aren't to watch the video hit the link below, and see where the future of the platform is going.
http://www.apple.com/ios/ios7/