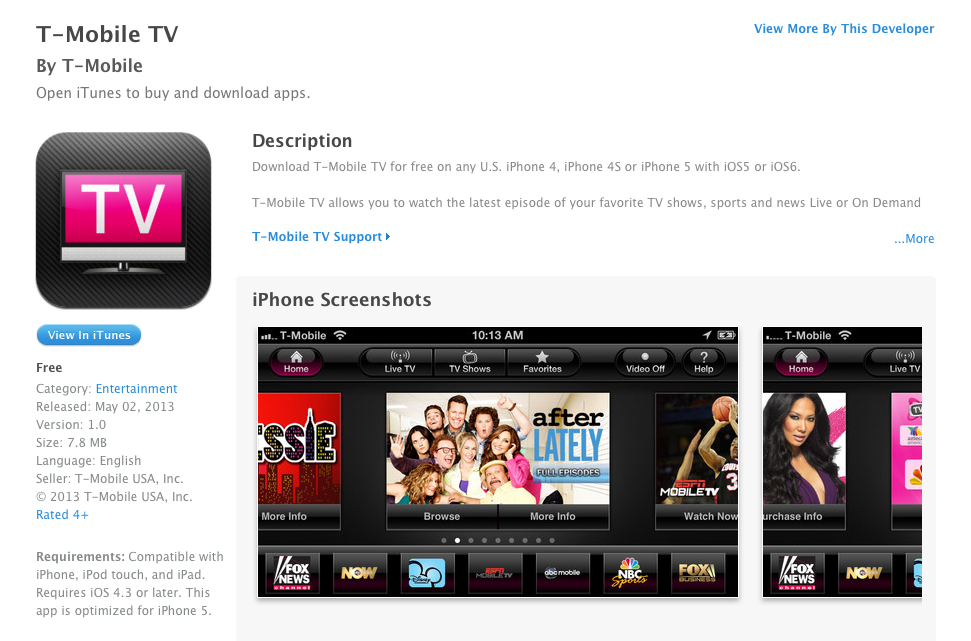 Flying under the radar yesterday was a minor release by T-Mobile into Apple's app store with the release of T-Mobile TV. T-Mobile has offered its TV app on Android since 2010 and with the release of the iPhone is expanding their efforts to showcase their "free" app.
T-Mobile TV is currently offering a 30 day free trial with free content including FOX News and Associated Press, Campus Insiders and ACC Digital Network and Saturday Morning TV and more. The prime pack which runs for $12.99 per month offers more mainstream content including ESPN, NBC and CBS sports, ABC news, ABC, CBS, FOX and NBC primetime programming as well as MTV, ABC Family, Spike TV, Comedy Central, E! and VH1. There's even more premium packs to boost the content for T-Mobile TV including Playground TV, Life & Style, The Urban Zone and Crackle Movies.
All in all there's plenty of content you can grab through T-Mobile TV, but it comes at a price. Discounts on content are available when purchasing 90 or 180 day subscription packages. T-Mobile TV on iOS requires an iPhone 5, 4S or 4 running iOS 5 or iOS 6.
T-Mobile TV allows you to watch the latest episode of your favorite TV shows, sports and news Live or On Demand directly on your smartphone!