To say the least, wading through the dense world of cellular plans can be maddening. Going to every carrier's website, navigating through clunky interfaces, then obtaining the numbers to actually calculate the total cost of hardware and service is arduous, so we here at TMonews did most of the legwork for you.
In this article, we're going to take a look at the total cost of ownership of a smartphone over the typical 24-month contract length. Not all carriers are equal, so it's particularly important to research coverage in your specific area to help you decide which carrier will best suit your needs, especially if a contract is how you plan to purchase cellular service.
We're focusing on smartphones because smartphones have all but taken over the cellular landscape, and each quarter they continue to capture more and more market share.
Nearly every cellular customer can benefit from the ever-expanding feature set of today's smartphones, but with hundreds of features found within these tiny pocket computers, there are bound to be particular features that benefit different users, while other features go largely unused.
First, lets look at the smartphone user who will benefit more from the device rather than the connection. Perhaps this would be an avid Twitter user or Instagramer with a constant wifi connection, or maybe a business man or woman who principally utilizes his or her smartphone for text-based email. These users are bound to use a minimal amount of data and will benefit from the savings afforded by carrier rate plans with small data allotments.
Cheapest Smartphone Plans:
Note that for this section, I used the iPhone 5 for all calculations except the T-Mobile Classic rate plan because its price is the same across all carriers except T-Mobile. Since only third party retailers still offer T-Mobile classic plans, I used BestBuy.com for classic plan pricing. At this point in time, the iPhone 5 is not listed as a compatible device for classic plans, so I chose the Galaxy S4.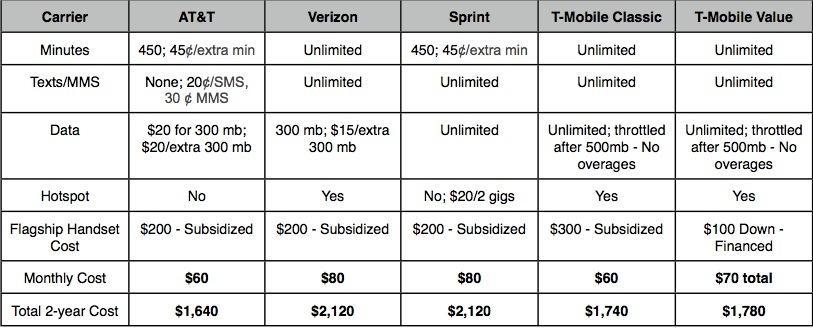 Note that even though you may pay fewer dollars with AT&T, you get very little and will be disposed to a rather sizable risk of incurring overages, both by texting and by going over your data allotment.
Low data allotments definitely don't suit all of us. I, for example, am a huge music fan. Last month alone I consumed around 5 gigabytes of audio, plus 3 more gigs of miscellaneous data, despite having wifi connections both at home and work. So for the music-loving, Netflix-watching, high-res photo-posting users, let's take a look at plans with 4 gigabytes of data or more.
I skipped 2 gigabytes and went straight to 4 gigabytes because AT&T doesn't offer anything between 1 and 4 gigabytes of data on their Mobile Share pricing structure, and only offer 3 gigs with individual plans.
Unlimited Talk, Text, and Four Gigabytes of Data:

Compounding Savings With Family Plans
For these numbers, I chose to share 10 gigabytes of data between 4 lines on AT&T and Verizon. I also decided to continue using flagship devices for consistency. Once again, iPhone 5 was used accross the board except for T-Mobile classic plans, for which I used the Galaxy S4. I used 2.5 gigabytes per user for both T-Mobile pricing structures.

Where T-Mobile's Value Plan Pricing Really Excels
T-Mobile's plans and financing options are great, but consumers will see the greatest benefit of T-Mobile's Value Plans plans when either bringing their own devices or keeping the same devices after the completion of financing. Unlike its larger competitors, T-Mobile drops the price of service after the device's full value is repaid, allowing even cheaper rates.
A quick search reveals that the cost of a used iPhone 4S or Galaxy S3 in my area typically sells for around $350 on Craigslist. If I bring an unlocked last-generation smartphone to T-Mobile and sign up for unlimited everything, my bill is just $70 a month because I'm not paying for a device I've already purchased. With the $350 phone and a $70 a month service charge over 24 months, the total cost of ownership amounts to $2,030.
If I don't need unlimited data, I can opt for the $50 plan, including unlimited talk and text with 500 megabytes of full-speed data, dropping the 24-month cost of ownership down to $1,550. The equivalent plan on Verizon would come with less and cost at least $570 more over two years, barring any data overages.
If I buy 4 used last-generation flagship handsets for $350 a piece (or 4 brand new Nexus 4s) and sign my family up for T-Mobile's unlimited talk and text with 2.5 gigabytes of full-speed data value plan, I'll save the $80 a month I would have put toward financing. The upfront hardware cost of $1,400, plus 24 months of service at $140 a month gives us a total cost of ownership of $4,760! That's a whopping $3,240 less than Verizon over two years!
Want smartphones with a major carrier as cheaply as possible? Buy 4 used Galaxy S2s or iPhone 4s at $200 piece, get them unlocked for $5 a piece on eBay, and opt for unlimited talk and text with 500 megabytes of full-speed data on T-Mobile for $100 a month, or just $3,220 (with hardware and unlocking costs factored in) for two whole years.
These configurations aren't by any means exhaustive, and there are myriads of options from which to choose when purchasing smartphones and service. The beauty of T-Mobile's new Value Plans, however, is that you can purchase the phone you want (being as frugal or flashy as you please) and pay only for the service you need without making payments toward a phone you've already bought like the other carriers make you do.
Now, as I mentioned previously, coverage is crucial. If you live in the rural hills of West Virginia, one of the locales in which T-Mobile has no native coverage, you will find yourself roaming on 2G. Despite the higher cost, in that circumstance one of the bigger carriers would be more sufficient for your needs.
However, if T-Mobile has sufficient coverage in your area, their Value Plans are extremely compelling. But don't take my word for it. Evaluate your smartphone needs, check your local coverage, and crunch the numbers for yourself.
Edit: Thanks to everyone who corrected me on the numbers of the T-Mobile Family Value Plan. The chart should now be correct and contain no further discrepancies.