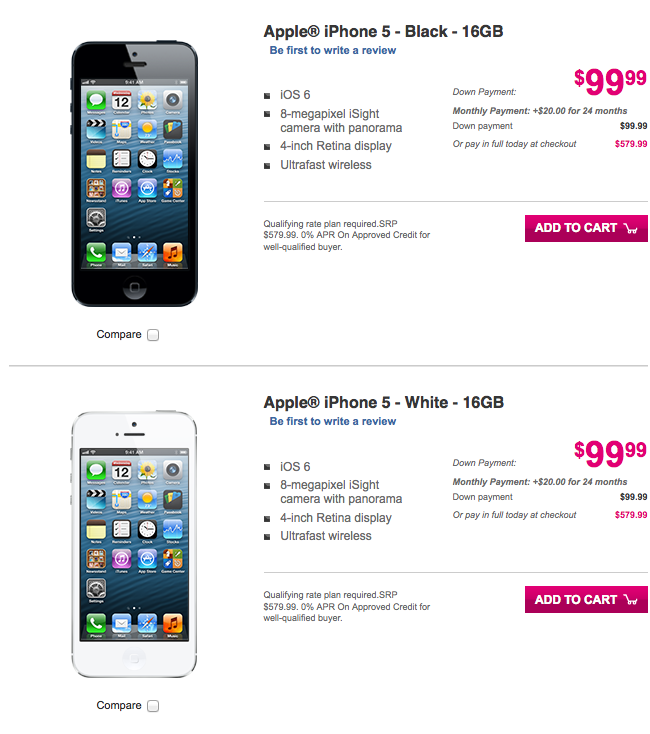 Editors Note: I've been told sales start at 4am eastern, it's a few minutes before that so if you can't complete the transaction, keep trying!
For years we've waited for the day that T-Mobile's smartphone offering would be complete with the four major platforms and that effort begins today as iPhone 5 pre-orders go live. Pricing will be available as listed below with the 16GB models available in store on April 12th.The iPhone 5 launches on T-Mobile as one of the companies first LTE devices alongside the BlackBerry Z10. The LTE lineup will fit out later this month with the release of the HTC One and then the Galaxy S 4 on May 1st. The 16/32/64GB models are now all available online through T-Mobile.com.
As another quick reminder, the iPhone pricing requires the purchase with the new Simply Choice Value plans. The iPhone will not be available for use with existing upgrades, Classic or Grandfathered plans. It's a Value Plan world now!
    iPhone 5 16GB = $99 down payment, 24 monthly payments of $20 totaling $579.
    iPhone 5 32GB = $199 down payment and 24 payments of $20 for a total of $679.
    iPhone 5 64GB = $299 down payment and 24 payments of $20 for a total of $779.
Hit the T-Mobile or Apple links below to get started.