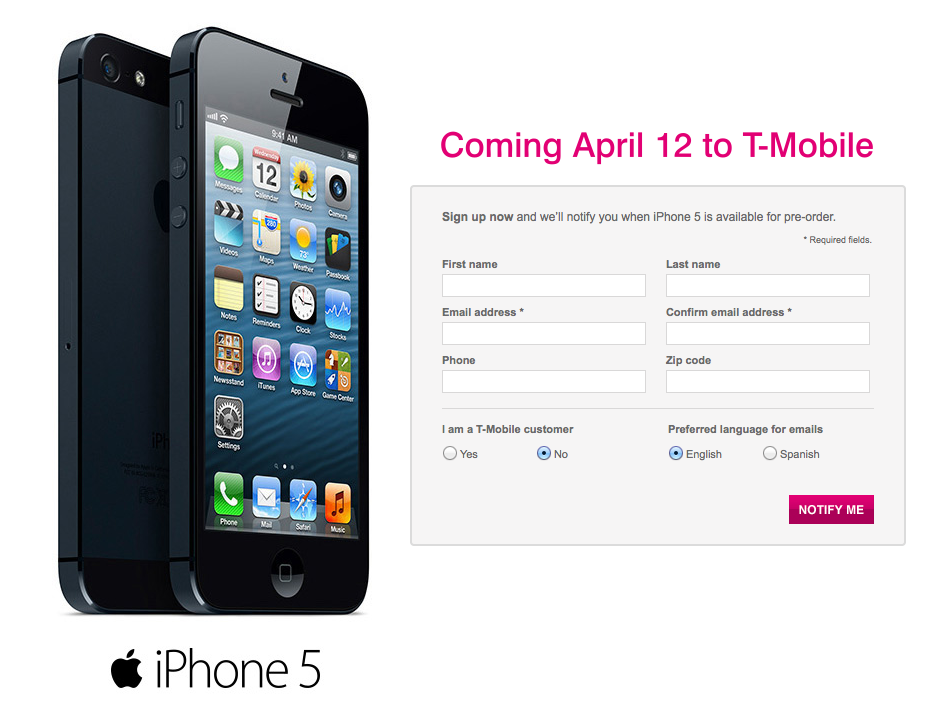 Updated: A previous draft stated that T-Mobile was expecting 200,000 pre-orders, that number I'm now being told is the amount of people who have signed up for more information about the pre-order.
While I'm having a harder time than I care to admit nailing down the time iPhone pre-orders will go on sale, they are going on sale at some point tomorrow. I'll be sure to update this post as soon as I hear back through official or unofficial channels with a start time. As for what kind of volume T-Mobile has already seen more than 200,000 people registering to be notified when the phone is available for pre-order. Will T-Mobile meet or exceed those numbers? We're hopeful T-Mobile will discuss early results during with their May 8th financial results. Magenta has some great momentum going as we learned this morning and hopefully the 1-2-3 punch combination of the iPhone 5, HTC One and Galaxy S 4 can lead second quarter results to even greater heights.
Quick reminder that T-Mobile stores will stock the 16GB size, with the 32GB and 64GB variants available online and through Apple.com.
iPhone 5 16GB = $99 down payment, 24 monthly payments of $20 totaling $579. Apple's price for an unlocked 16GB iPhone 5? $649.
iPhone 5 32GB = $199 down payment and 24 payments of $20 for a total of $679. Apple's price? $749.
iPhone 5 64GB = $299 down payment and 24 payments of $20 for a total of $779. Apple's price? $849.