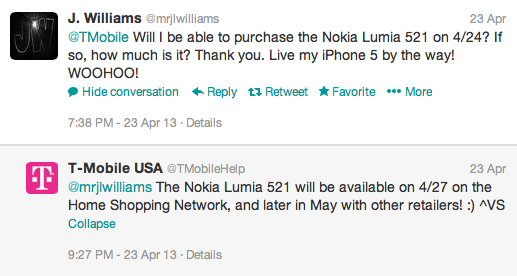 Yes, you read that title correctly as T-Mobile announced availability for the Lumia 521 this morning. Beginning April 27th, television retailer HSN will introduce T-Mobile's exclusive Lumia 521 for $149.95 bundled with a car charger and screen protector. The Lumia 521 will also be available for $149 at Microsoft retail stores and Walmart on T-Mobile's $30 no contract unlimited web and text plan. Mind you those prices are for the full retail price of the device, no contract required.
The Lumia 521 is powered by Windows Phone 8 and features a 4″ display, 5 megapixel camera, 720p HD video and Nokia exclusive applications such as Nokia Music, Cinemagraph, Smart Shoot, HERE Drive, Maps and Transit.
T-Mobile will partner with Nokia to bring customers the Lumia 521 – an exclusive to T-Mobile. Powered by Windows Phone 8, the Lumia 521, which will run on T-Mobile's fast nationwide 4G network, is a perfect, everyday smartphone that will embody a range of high-end features at an affordable price.

The Nokia Lumia 521 features a super sensitive 4" touch screen, 5MP camera with auto focus and 720p HD video recording. It will also include exclusive Nokia applications such as Nokia Music, Cinemagraph, Creative Studio, Panorama, Smart Shoot and HERE Drive, Maps and Transit.

Beginning in May, the Nokia Lumia 521 will be available through Walmart, Microsoft Retail Stores and T-Mobile retail channels. Exact availability and pricing of the device will be shared at a later date.