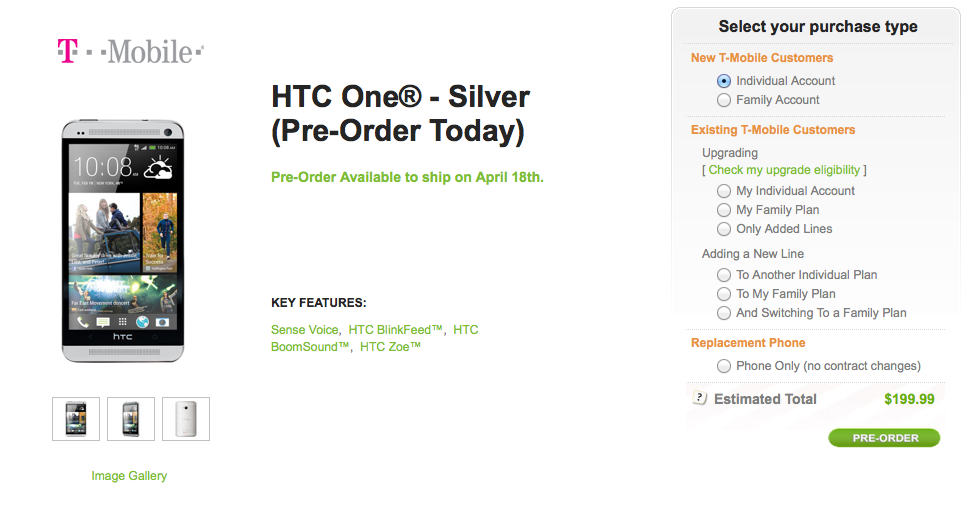 Here's a bit of a kicker for those of us still eagerly awaiting T-Mobile's announcement of an official HTC One release date. The manufacturers own "shop" page has placed the T-Mobile variant up for pre-order with shipping taking place on April 18th. With the 18th as a shipping date, my best guess is that we're then looking at the 19th as an official release date, which does line up with other rumors I've heard but unable to confirm. Take the 19th with a grain of salt until we can get something more substantial than whispers.
Mind you HTC's shop store is powered by LetsTalk.com so UNcarrier Value Plan options will not be available. This will be strictly for customers on or switching to T-Mobile's Classic plan option not available through company-owned locations or channels.
The rate plan scenario is why we see a $199 price tag, instead of the $99 price tag T-Mobile CEO John Legere announced at the company's Simple Choice UNcarrier announcement on March 26th. Hit the link below if you're a Classic Plan subscriber otherwise hang on tight Value Plan fans as we're press to find out more info before you can exercise your credit card.