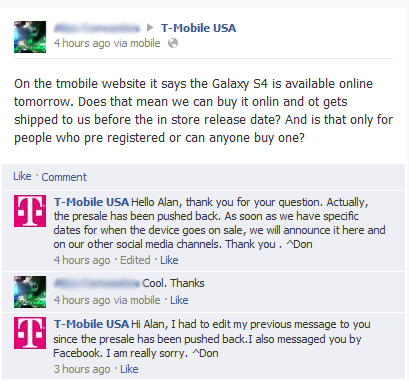 Update: T-Mobile just sent official word that the Galaxy S 4 online ordering won't start until April 29th:
We know customers are really looking forward to getting their new Samsung Galaxy S 4 soon. However, due to an unexpected delay with inventory deliveries, the Galaxy S 4 will not be available on www.T-Mobile.com as planned on Wednesday, April 24. Instead, online availability is expected to begin on Monday, April 29. We apologize for any inconvenience and are working with Samsung to deliver the device to T-Mobile customers as soon as possible.
As the clock continues to tick away till midnight and the dawn of April 24th, T-Mobile's Facebook page is telling customers tomorrow's Galaxy S 4 online launch date has been pushed back. That launch, which T-Mobile had set for tomorrow has apparently been changed to an unknown date for unknown reasons. I've reached out to T-Mobile to verify the Facebook postings and will update this post as soon as we hear more.
Developing…