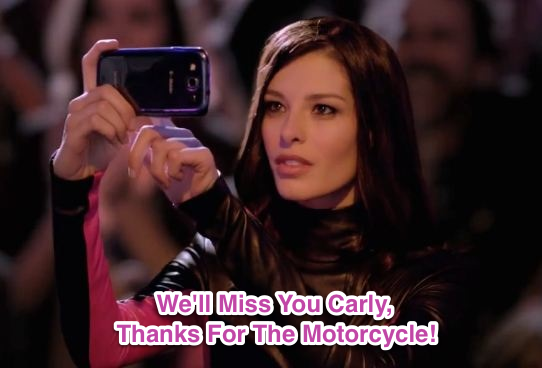 In the heat of the last 36 hours and a continuous stream of T-Mobile news, I almost didn't take notice that Carly hasn't appeared at all. Not only did Carly not appear on stage at the T-Mobile event as she had in years past, but is also absent from the company's new marketing spots. We knew that T-Mobile was adopting a new marketing strategy and with that, T-Mobile has confirmed to Business Insider that Carly will not appear in the company's current marketing campaign.
"The current campaign will not feature the character of the T-Mobile Girl, however she is still a part of the company's brand family," a spokesperson says.
The comment leaves room for Carly's return, but given the radical new direction of marketing T-Mobile is adopting, it's likely the last time we've seen Carly all dressed in tight-fitting leather. Carly debuted on T-Mobile in the fall of 2010 with her soon-to-be easily identifiable pink dresses. The possibility remains that Carly could return as part of the company's marketing campaign once the initial period of the UNcarrier launch is over.
If Carly doesn't return, we'll miss her pink dresses, speedy motorcycles and giant smile as the face of T-Mobile. I leave you with this photo, which just so happens to be the very first photo I placed of myself on this website. Who better to "out" myself with than Carly.