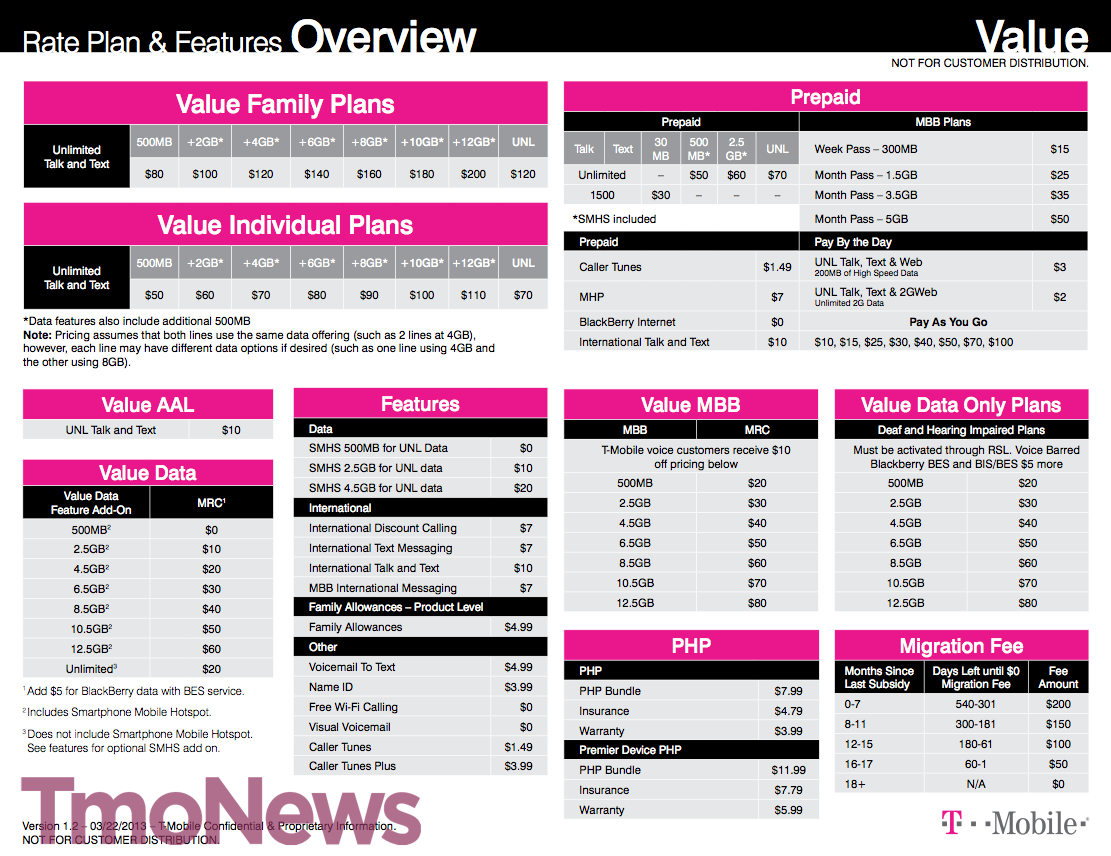 Breaking down T-Mobile's new Value Plan is something we're all working to do and hopefully this image, with its incredible detail will allow us to do just that. As a caveat, the image does still leave some lingering questions, especially those surrounding existing customers and upgrades. Still, there's little left to the imagination regarding the company's new Value Plan efforts that there's no stone left unturned with the new Value Plan presented here.
At first glance, some of the international charges appear cheaper with the $7 down from $10 and the $10 plan down from $15. The prepaid plans also received a refresh with the $50 plan bumped up to 500MB of data and the $60 up to 2.5GB of data.
The Value Family plan is priced out for two lines including data, with lines 3, 4 and 5 an additional $10 plus their own data add-on. In other words, every line for the 3rd, 4th and 5th lines require its own data package as there's no shared data ala Verizon and AT&T.
Mobile Broadband and HotSpot plans are also broken down in this image as well, with "SMSH" referenced as the available hotspot add-ons. Mobile Broadband customers should take note that current T-Mobile voice customers receive $10 the listed pricing. Pricing for the HotSpot add-on was $15 prior to the new Value Plan changes, with the 500MB offered as free for tethering customers. Capped data plan customers can tether for "free" based on the allotted data, unlimited data users will choose from one of the three available tethering options,  includes the 500MB option already available with the rate plan.
There's plenty of information to take in above, and we're hopeful that T-Mobile will go into even more detail as to the reasoning behind these changes tomorrow at their special event.
Questions? Ask below and I'll do my best to help answer them.