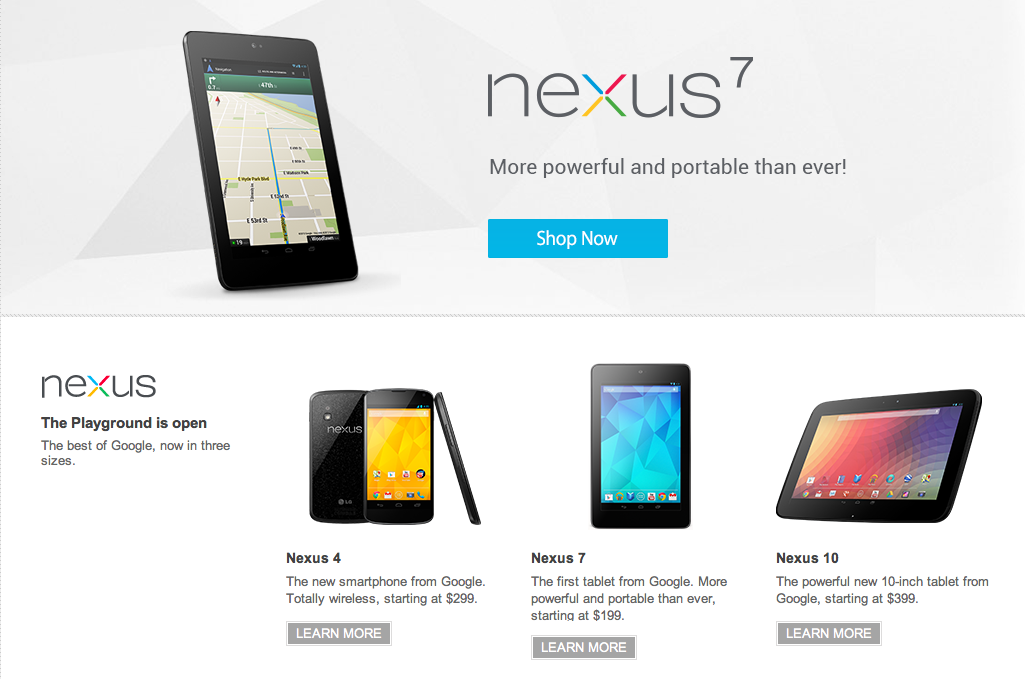 With rumors surfacing in the past week that Google was close to launching their own brick and mortar retail stores, Android chief Andy Rubin shot down those rumors earlier today. During a roundtable interview in Barcelona at Mobile World Congress, Rubin said "They don't have to go in the store and feel it anymore."
I'm not 100% sure I agree with that sentiment, but Rubin emphasizes that Google's hardware effort is still in its infancy: "For Nexus, I don't think the program is far enough along to think about the necessity of having these things in a retail store," he said. When pressed about whether Google would ever consider a retail store environment for products, Rubin emphasized that Google had "no plans and we have nothing to announce."
Also speaking in Barcelona, Google VP of Google Play Jamie Rosenberg played up the notion that Google is committed to selling hardware through the Play Store. If we can take a trip back in time and recall the launch of the original Nexus device, the Nexus One, Google attempted direct sales of the original Nexus device and then reversed course to sell the Nexus through other channels.
That all changed with the release of the Nexus 7, Nexus and Nexus 10 last year which all launched via the Play Store before moving to other channels. Even if the Play Store experience hasn't been as smooth as Google would prefer with numerous inventory troubles for the new Nexus lineup, they remain committed to the Play Store. Rosenberg's comments echo that of Rubin's which lends further credence to the idea that Google isn't moving toward a brick and mortar retail environment.
"We're getting better at fulfilling demand and kind of operating the store in a way that consumers expect us to," Rosenberg said, noting that the Play store is "a reliable way for us to get these devices into market in different countries around the world."
Do you want to see Google stores pop up in your local shopping mall or do you agree with Rubin's comments that Google hardware doesn't require a hands-on experience before purchasing? Even after the comments from both Google execs, something tells me Google hasn't written off launching retail stores just yet.