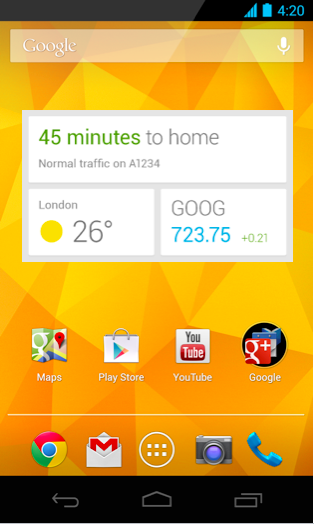 If someone were to ask me the single biggest reason I'd jump back onto an Android device full-time these days, Google Now would be an immediate response. Yes, it's still new and there's no doubt Google will add a ton of more features over time, but even if its infancy, Google Now is Google and Android at its best. The addition of a brand new Google Now widget with all of your important Now cards right on your home or lock screen is an incredibly enticing feature. This is one of those "things" that makes Android great in my mind and if you're running an Android 4.1 device and above and not using Google Now, you don't know what you're missing. Grab the widget "Now!"
Android Official Blog via Google Play
Press Release:
When computers do the hard work, you can get on with the things that matter in life. Google Now helps you do just that, giving you the information you need, before you even have to ask. Like updating you with flight times, pulling up your boarding pass when you arrive at the airport, or showing you the weather at your next travel destination. Today, we're making Google Now even more useful by integrating new partners and making all your information even easier to access.

Going to the movies? Movie cards now include the latest ratings from Rotten Tomatoes, so you can pick the right movie. Purchase your tickets through Fandango, and Google Now will remind you when you need to leave for the theater, and pull up your tickets once you arrive.

In the market for a new home? Google Now can provide you with nearby real estate listings from Zillow. Plus, when you are checking out that remodeled kitchen at the open house, Now will automatically pull up more information about the listing.

Of course, all of this information is most helpful when it's front and center and ready when you are. The new Google Now widget brings all your important Now cards to your home or lock screen, so you don't even have to open the app.

When Google Now first launched last summer, we promised it was just the beginning, and it would continue to get better at delivering you more of the information you need, before you even ask. This is the fourth update since launch, and we're just getting started!

To try out these new cards, get the latest version of the Google Search app for Android, available on Google Play for devices running Android 4.1 and above.