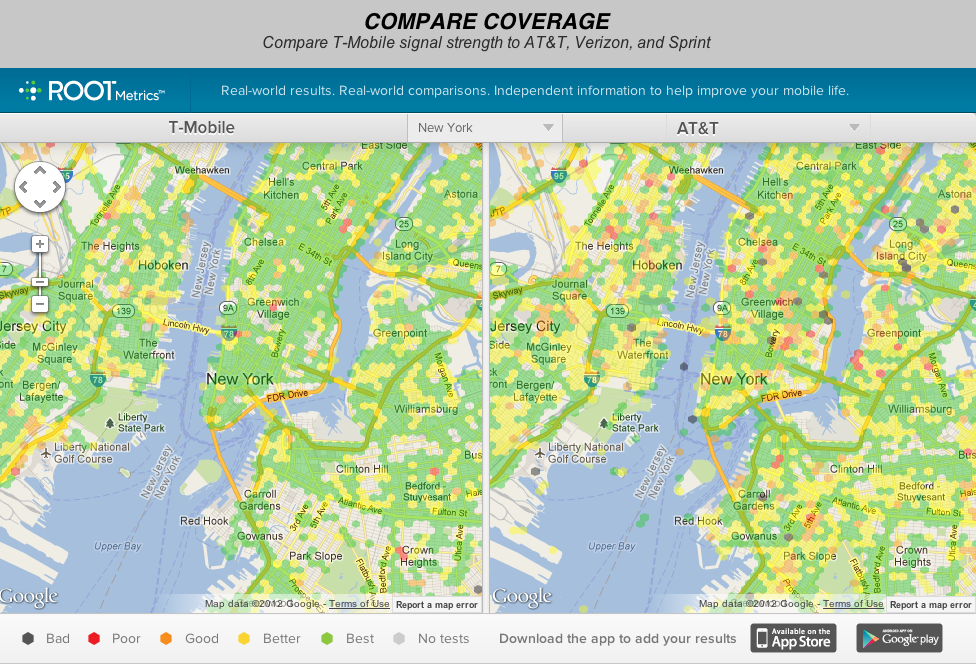 T-Mobile's efforts to promote coverage are moving beyond fancy commercials featuring Carly and Helicopters, and moving into independent coverage comparisons on their website. The addition of RootMetrics, an independent research company that is "dedicated to helping improve your mobile experience."
The use RootMetrics data provides current or future T-Mobile customers with an opportunity to easily compare coverage in the markets the company has gathered independent data. Current data point locations include Baltimore, Boston, Chicago, Dallas, Houston, Los Angeles, New York, Philadelphia, San Francisco, San Jose and Seattle.
Compare T-Mobile's coverage to other carriers with an independent, crowd-sourced map from RootMetrics. RootMetrics coverage maps are populated by people like you who have installed the RootMetrics app, as well as RootMetrics scouts. Comparison map displayed shows voice signal strength. Comparison map results may show gaps in coverage if no one has reported from that area. To see complete T-Mobile voice and data coverage visit Personal Coverage Check.
RootMetrics is a well-known face around TmoNews as their most recent study concluded in September of this year highlighted that T-Mobile's HSPA+ 42Mbps network faired incredibly well against the likes of Verizon and AT&T's LTE networks. With the hope that both companies will add more locations in the future, the addition of these maps offers new opportunities for T-Mobile customers to properly judge coverage basic on the experiences of folks like you and me.