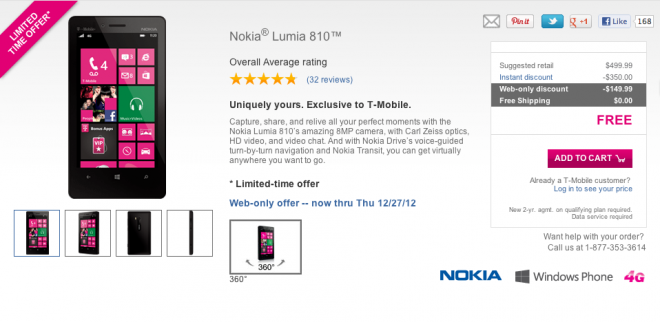 We're always fans of the post-Christmas specials and the Lumia 810 on T-Mobile.com is currently rocking the low price of $0.00. T-Mobile generally sells the Lumia 810 for $0.00 and with the deal only good through tomorrow, you'd better jump fast to take advantage of this one. Keep in mind this is a web-only offer so T-Mobile stores likely won't match the deal, but that's ok, what's a few days of shipping when you're saving money?
In my recent review of the Lumia 810, I praised the smooth operating system, though I was a little critical of the size of the device. The Windows Phone 8 Lumia line is a little thicker than we're seeing in recent smartphones to accommodate Qi wireless charging. For some this is an acceptable tradeoff, for others it makes for a try-before-you-buy experience. I will say the thicker body makes taking camera shots a joy — it's one avenue the thicker body comes in handy.
Get this deal before the clock runs out!