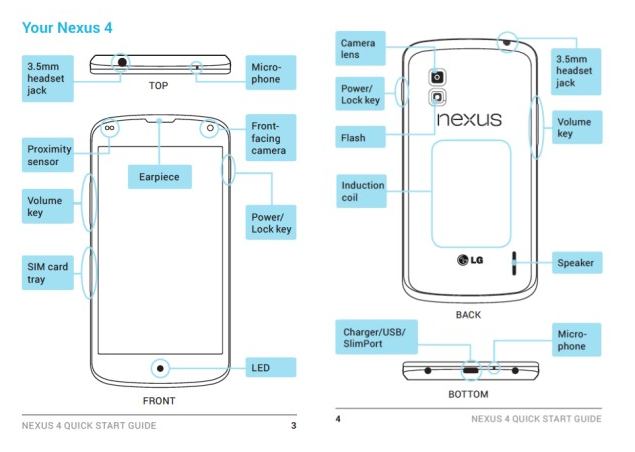 At some point we're going to start asking if LG and/or Google are intentionally trying to boost the hype surrounding the Nexus 4 given the non-stop leak-a-thon that has taken place in the last few weeks. As if losing the phone in a bar wasn't bad enough, the LG Australian and UK websites have published the support manual for the LG E960, which by now you might recognize as the Nexus 4 model number. In fact, the manual even confirms the Nexus 4 name, along with an 8GB version, which tells us a 16GB model can be expected as well.
Along with the name, we see an induction coil for wireless charging, but no sign of  a microSD slot for expandable memory. That's a real bummer, but something we're coming to expect with every new Nexus launch.
Let's come back to that "lost phone in a bar" story and tell you this isn't a repeat of the iPhone 4, except it totally is. The boys from Wired have the complete story on the Nexus 4 lost in a San Francisco bar. According the short version of the story, bartender finds phone, doesn't think much of it as he finds a lot of lost phones each night, decides to show phone to tech-savvy patron in bar, patron recognizes phone as Nexus 4, contacts Google, paranoia ensues. Needless to say Google's security team reacted as quickly and efficiently as Apple's own team (minus the kicking down doors) did to track down the lost prototype and get back in secure hands as fast as possible. The whole story really is worth the read, and you've got the above image and below video to keep you entertained along with another gallery over at the Wired link below.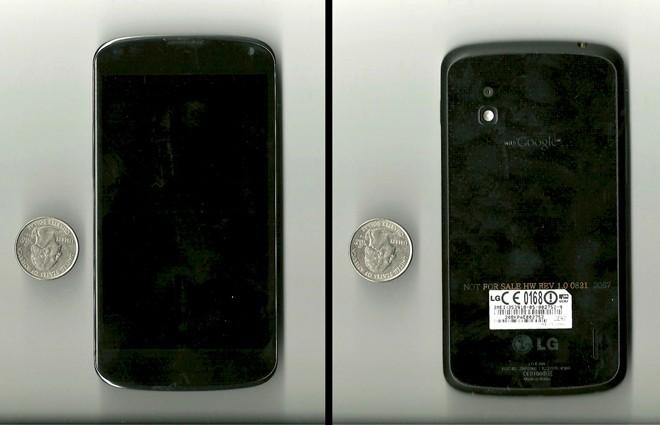 The user manual appears at the link below, give it a read as a way to pass the time before Monday's Google Playground announcements.
Engadget via LG E960 Manual; Wired