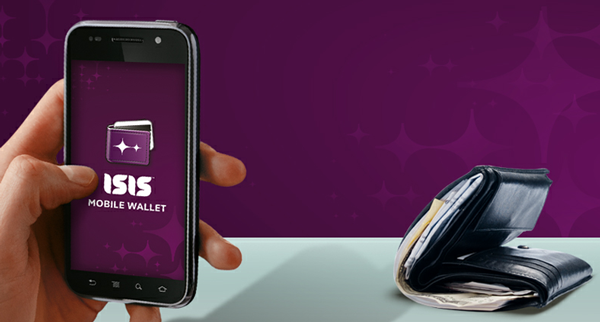 Right on schedule this morning is the announcement  of the ISIS Mobile Wallet system via T-Mobile, AT&T and Verizon Wireless in Salt Lake City, Utah and Austin, Texas. "With Isis, you won't have to carry around that physical credit card — and you can transfer a lot more personal necessities from your wallet onto your phone, thanks to secure NFC services."
The ISIS payment system will offer T-Mobile customers "a secure and convenient way to shop, pay and save, all with the tap of a phone. Merchants can also use Isis to offer discounts and loyalty perks in new creative ways, which means you can easily save more when shopping at your favorite stores."
SIM cards are available today for customers in the Austin and Salt Lake City regions for no charge at their local T-Mobile owned retail store. Download the ISIS Mobile Wallet app from Google Play and get started. T-Mobile will support the Galaxy S III, Galaxy S Relay 4G and Samsung Galaxy S II at launch with HTC Amaze 4G and Galaxy Note II support coming before the end of 2012.
How to Get Started With the Isis Mobile Wallet on October 22:
Visit an AT&T Mobility, T-Mobile USA or Verizon Wireless retail store in Austin or Salt Lake City to receive a secure element SIM and ensure your handset model is Isis Ready
Download the Isis Mobile Wallet application from Google Play
Load an eligible American Express, Capital One or Chase credit card into the Isis Mobile Wallet or get started with the Isis Cash™ card that comes in every Wallet.
Get out and get tapping at any of the hundreds of locations across Austin and Salt Lake City where contactless payments are accepted, a full list of which can be found at www.paywithisis.com.
T-Mobile Press Release:
T-Mobile Supports Isis Launch

By Michael Goo, Vice President of Strategic Development

As you head out the door today, imagine how freeing it would be to leave your wallet at home and just use your phone for any purchases. That vision is one step closer to reality with today's launch ofIsis, the exciting, new mobile commerce platform.

Isis makes mobile commerce possible for consumers and merchants through the use of near field communication (NFC) technology. With Isis, you won't have to carry around that physical credit card — and you can transfer a lot more personal necessities from your wallet onto your phone, thanks to secure NFC services.

The Isis platform powered by NFC will give T-Mobile customers a secure and convenient way to shop, pay and save, all with the tap of a phone. Merchants can also use Isis to offer discounts and loyalty perks in new creative ways, which means you can easily save more when shopping at your favorite stores.

Starting today, T-Mobile customers in Austin and Salt Lake City can get an Isis NFC SIM card for their smartphone at no charge in T-Mobile retail stores. They can then download the Isis Mobile Wallet from Google Play1 and begin moving their money onto their mobiles.

At launch, T-Mobile will support the Isis Mobile Wallet on three of our innovative smartphones: the Samsung Galaxy S® III, Galaxy S® Relay™ 4G and Samsung Galaxy S® II. By the end of 2012, the HTC® Amaze™ 4G and Samsung Galaxy Note II will also support Isis Mobile Wallet, and we look forward to including the capability in even more handsets in 2013.

If you're in Austin or Salt Lake City, download the Isis Mobile Wallet today or visit any of our stores in these cities to be eligible for $10 of free Isis eCash when you activate Isis Mobile Wallet. Learn more about paying with Isis at http://paywithisis.com.

Isis is paving the way for future innovations that will help you simplify your life, and we at T-Mobile are excited to be a part of the journey.