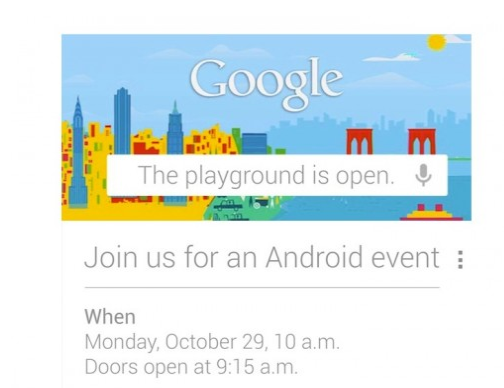 It goes without saying that we're eager to find out exactly what Google has in store for their upcoming "Playground" event taking place next week. We can thank the boys at TheNextWeb who think they've got a source that can nail down everything that Google has planned for next week.
In no particular order we should see the official unveiling of a 32GB Nexus 7 variant, along with a second 32GB variant that offers HSPA+/3G connectivity.
Moving along is word that Google will unveil the rumored 10″ tablet they've got cooking up with Samsung. Dubbed "Codename Manta," the new tablet is said to run Android 4.2 and offer a 2560 x 1600 pixel display. Such a display would offer 300 pixels per inch (ppi) which would exceed the new iPad's 264ppi. It's believed that Google and Samsung will offer the new tablet up simply as the "Nexus 10," but the name remains unconfirmed.
The third bit of news is the reveal of the LG Nexus 4, featuring a quad-core 1.5GHz Qualcomm APQ8064 Snapdragon processor, 4.7″ 1280 x 768 display, 2GB RAM, 16GB storage, 8 megapixel rear camera, 1.3 megapixel front-facing camera and a 2100mAh battery. Powered by Android 4.2, the Nexus 4 by LG marks the manufacturers first foray into the Nexus line and is said to be based loosely on LG's recently unveiled Optimus G.
Speaking of Android 4.2, it's been confirmed that Google will show off some new features including "Content in the center," which will allow users access to Play Store content from a widget and "Tablet Sharing" which will suit families and enterprise users, offering up a simple and easy way to switch between separate users on a tablet, each with their own email and apps. Additionally, Google will add new panoramic camera settings that will update to both horizontal and vertical movements automatically.
For the moment, we have to take all of this as grains of salt rumor but it's starting to line up with everything else we've heard out of Mountain View.
So what do you think? Did you want more?