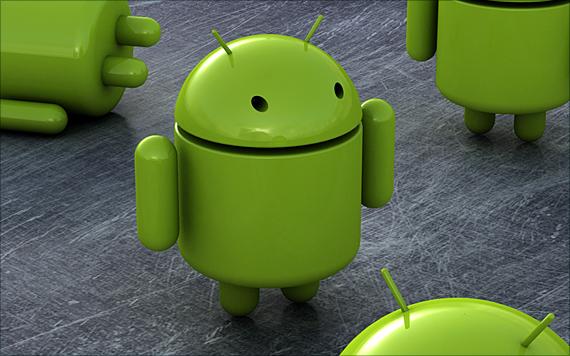 Update: Google employee Dan Morrill is having a good laugh at the latest round of rumors with a simple "Reading rumor sites…. LOL." comment on Google+. When pressed for more information, Morrill wouldn't disclose which site(s) he was referencing, but I think the below information is the pretty obvious choice. It's possible that Morrill is laughing out loud because of how dead on this information is, or how very, very wrong it is. Hopefully we'll find out soon enough.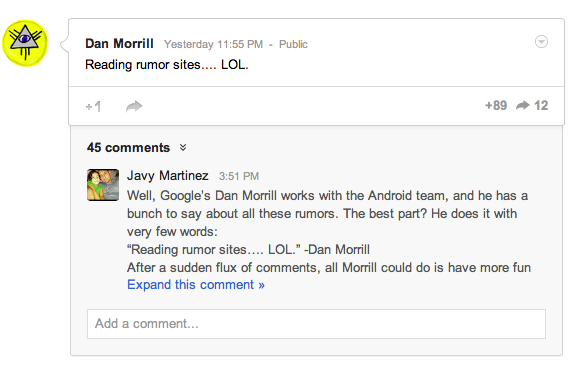 The following post has enough unconfirmed information to call for a well emphasized "rumor" warning to everyone before reading, but we're confident enough in our friends at Androidandme to say that there is probably some truth to what they've uncovered in Android 4.2, Google's next-generation of Android.
First things first, comes word about a new Nexus program, which won't come as much of a surprise given that rumors hinting toward a multiple Nexus device launch have been around for months. The idea that Google will push to have more manufacturers on board with the Nexus program doesn't seem like a far-fetched premise to us at all, in fact I think they would prefer multiple devices. The devices themselves will have to fulfill some basic requirements: run a stock version of Android, have enough power to run all "Nexus Games" and support Google Wallet with NFC.
The next rumor highlights a new Customization Center, where you'll be able to quickly change ringtones, language packs, background, launchers and more. There are two new features that will be included: templates that change the appearance of all dynamic icons at once, and post filters that change the appearance of the UI ala Instagram. This rumor stretches itself a little when it says manufacturers will provide their own custom UI through the new Customization Center, but aren't required to do so. According to this rumor, if Google were to upgrade Android and a manufacturer failed to offer a compatible version of their own UI, the device would revert back to stock Android as the user waits for the manufacturers upgrade to catch up. Honestly, this seems a little far-fetched and we'd have to show some skepticism on this one, it almost sounds to good to be true. The idea that manufacturers would allow Google to upgrade the "base" Android OS without having their own UI ready sounds like something Samsung, LG, HTC etc would take issue with.
We're familiar with Project Butter, Google's effort to enhance Android responsiveness in Jelly Bean. Now it's time to meet Project Roadrunner, an effort by Google to show major enhancements to battery life. We love the idea and we know that manufacturers like Motorola are dedicated to improving battery life, so even if Google isn't working on Project Roadrunner, we have faith in companies like Motorola and Samsung to enrich battery life.
Our next bit of intel indicates Google is working to update Google Play with new features like "personalized search, optional promotional campaigns with notification center integration, more billing options and easier in-app micro-transactions." We'd love to see Google continue to morph Google Play into something more feature friendly, and even if this rumor isn't correct, at least its not iTunes.
An updated version of Google Now seems like a no-brainer and given that Apple released an "enhanced" version of Siri with iOS 6, we have little doubt that Google will do the same with their next version of Android. According to Androidandme information, Google Now will offer help for basic functions or tasks like "Where can I activate bluetooth," or "How can I tone down the brightness?"
The last bit of rumored intel indicates Google is working to update the stock video player app with a major revamp and a brand new set of APIs for other video services to connect with. Apparently, this effort is the first step in a bigger media streaming service Google will offer in the future.
We have to again emphasize the idea that all of this is rumor-based with no concrete evidence that any of it will actually come to pass. As Androidandme points out, some of these details get pretty specific so it seems unlikely that their source would make this up, and with sightings of Android 4.2 popping up in server logs across the tech blog world, it seems fair that a release is imminent. I'm not sure I would sign off on all the above information, but things like an enhanced Google Now or improved Google Play seem like no brainers with every new Android release.
Still, I would love to see the Nexus certification program come to pass and watch Google get more involved in taking control of the Android experience. Nexus devices show off the very best of the Android platform and they should receive as much attention as necessary to help promote the platform in its best light.
As for the rest of info, I'm sure we'll find out soon enough.