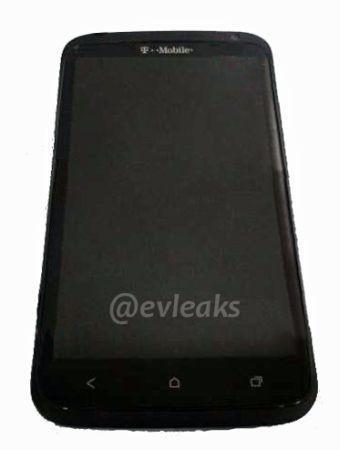 At this point, I have to wonder if this image of a T-Mobile branded HTC One X+ is more of a tease of what could have been, than what will be? With the removal of the HTC Era 42 from T-Mobile's roadmap and our own sources calling this device both "canceled, or indefinitely delayed," we're finding we aren't the only ones to hear the something similar. The image, courtesy of the @evleaks Twitter account, doesn't tell us anything other than the device would/will arrive in black.
For now, we're sticking by our sources and guessing the decision to launch the One X+ is dependent on a few variables. For one, it would almost certainly cannibalize remaining inventory and future sales of the One S, not to mention distract from HTC's efforts to put their "hero" Windows Phone 8X flagship device front and center. On the other hand is the possibility the One X+  didn't pass T-Mobile's testing process, or the decision was made to focus on other yet-to-be-announced smartphones. Of course, it could be none of those things and it ends up launching after all, we just don't know for sure. The one thing we do know is that we like to be much more certain about these launches than we are about this one and I know you do as well.
If there is one thing we do know, the appearance of a branded device tells us what we already knew and already believed, that it was in testing. I still can't help but think how popular this device would be on T-Mobile among the Android diehards looking for a true competitor to the Galaxy S III that isn't named the "Galaxy Note II." So keep your fingers crossed.