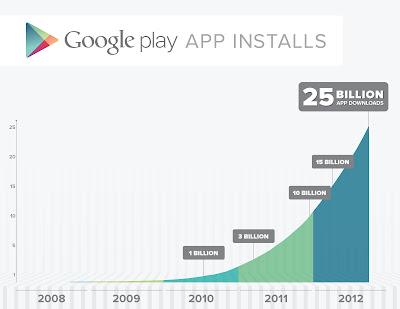 A big, big round of applause for Google Play, now home to more than 675,000 apps and games which have led to an amazing feat with 25 billion downloads. To celebrate, Google is announcing an amazing sale over the next 5 days with 25 cent downloads from some of the world's top developers including: Gameloft, Electronic Arts, Rovio, runtastic, Full Fat and more. That's not all though as Google also announces special collections like "25 movies you must own, 25 banned books, 25 albums that changed the world and our 25 top selling magazines, all at special prices."
All you have to do is visit Google Play a little later today to see the very first deals.
As a frame of reference for how big a number 25 billion really is, Google geeked out their press release by stating that 25 billion is "more than twice the distance, in miles, that Voyager 1 spacecraft has travelled since its launch 25 years ago. It's the amount of time, in minutes, that have passed since some of our earliest ancestors began to set foot in Europe. And now, thanks to all of you, it's a Google Play milestone. We look forward to the next 25 billion."
That's our Google.